The Perfect Resume: Part 2
by Tony Nation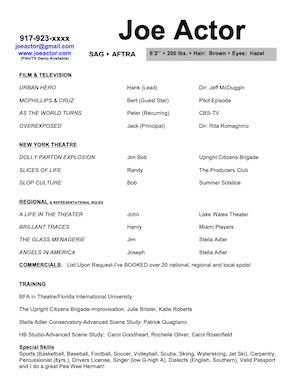 Your resume should list your credits in three columns with title of show or film in the first column, role in the second column and theater/production company/network in the third column. If you list directors, they should be names that will be recognized otherwise don't list them!
For film and TV actors, you should list behind the role of the character in parenthesis:  Lead, Co-Star, Guest Star, Supporting, Principal or Featured/Extra. For soaps, list: Contract Role, Dayplayer, Recurring Dayplayer, U/5, or Featured/Extra.
Why should you list this information??? You don't want to just list a role, you want to provide the information on what your work consists of—even if you are just starting off. Even Meryl Streep was a beginning actor at one time!
If you are just starting off, and have only worked on roles in an acting program or studio, you may list roles under the column of "Representative Roles."  When industry sees this on a resume, they take it for granted that the actor did scenes from these plays in his or her acting class. That's fine—it shows you have some training and you know what roles you'll be sent out for. But don't put on your resume the role of BIG DADDY in Cat on a Hot Tin Roof if you're 22 years old. Also, make sure you've read the whole play so you can talk about it. There's nothing more embarrassing then being caught in a lie or not knowing the material.
Commercials should never be listed out on the resume instead use "List Upon Request" or "Conflicts/List Upon Request" if you have a commercial currently running.
Never list modeling jobs!
Under "Training", list where and what you have studied. If you have a bachelor's or master's it should be at the top—even if it is not performance related. You spent many years in school getting your degrees—don't understate it!
"Special Skills" vary from person to person! If it's something that makes you unique-list it-especially as an icebreaker line!!! Here are some often found on a resume: Archery, Golf, Professional Decorator, Surfboard, Badminton, Gymnastics, Stunt Person, Swimming/Diving, Baseball, Hang Glide, Puppeteer, Tennis, Basketball, Hockey, Race Cars, Toboggan,Baton Twirl, Horseback, Race, Speedboat, Track,Bike Riding, Handgun Ride, Pogo Stick, Trampoline, Billiards/Pool, Hypnotist, Ride Unicycle, Tumbling,Body Surfing, Ice Skate, Rodeo Rider, Typing (W.P.M.), Bowling, Karate /Judo, Roller Skate/Blade, Boxing, Juggler, Rope Twirl, Bull Fighting, Mime, Rugby, Canoeing, Magician, Sail Boat, Carpentry, Meteorologist, Scuba Dive, Cartoonist, Fly Plane, Sculpt, Cheerleading, Musical Inst., Sew/Dressmaking, Computer Skills, Milk a Cow, Skateboard, Cricket/Soccer, Motorcycle, Sky Dive, Farm Machinery, Nurse Speak, Foreign Language.
Click here to download a sample resume.
Learn more of the ins and outs of auditions, resumes, and more by attending some of our online acting seminars.
For more information on how to navigate the business part of being an actor, check out the The Biz tab under Acting Classes and Seminars.
/wp-content/uploads/2018/09/actors-connection-final-logo-full-color-whiteglow-300x45.png
0
0
Tony Nation
/wp-content/uploads/2018/09/actors-connection-final-logo-full-color-whiteglow-300x45.png
Tony Nation
2011-03-30 03:02:26
2021-06-18 15:31:30
Insider Acting Tip #10