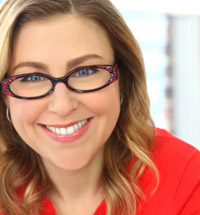 Jen Rudin is an award-winning New York Casting Director. We asked her for history, tips, and tricks of the auditioning process.
You started with acting, but stuck with casting instead; what is your favorite part of New York casting?
It's fun when you get to hire somebody for a role, especially if it's someone that you have been tracking for a while, who you groomed and brought in over the years. Getting to call the agent and tell them they got the part is the best part; when it all works out, that's a good day of casting.
Have you had actors that you've really championed?
Actors have to make casting directors their fans, and we have to make the client (producing director) a fan of the actor; it's a gradual process and doesn't happen overnight. There are many actors that I love and fight for. The challenging thing is that I don't want to shove my opinion down a director or studio executive's throat. Casting is like bartending: My job is to present the choices to the creative team and hope the director/producers like the choices.
What do you find the most challenging part of your job?
There is never enough time to audition everybody. If I don't know an actor, and they don't have time to pre-read, they're not going to have an audition. There are so many actors out there and you only have so much time to do the audition, so that's challenging. There is never enough time to watch all the tapes that are sent in, especially during pilot season.
What have you learned in your career?
There is no formula for casting. Every single project is different; some are fun and easy, and others are a real struggle. Actors do change. An actor may come in and give a terrible audition one day and then another day come in and be great. You can't write off someone and say they're never coming back to audition again.
What do you look for when you're casting animation versus on camera?
First of all, everyone thinks animation is easy to do. It's a skill like anything else. You have to know what you're doing behind the microphone, putting on the headphones, what to eat, what not to eat, what to drink, taking your jewelry off in the recording studio because you can't have all of that stuff clinking. With voiceover and animation, an actor must be aware of their vocal range, and use the highs and lows in their voice to tell a story. Pacing is important. Most of the time comedians and theater people are great for animation because they aren't afraid to make a fool out of themselves and to take risks. So everybody who thinks they'd be great at voiceovers should take a class and get into a studio and see how hard it is to do it.
What do you wish actors knew when they come in to your office?
I wish actors knew the basics: stapling picture to résumé, being prepared, knowing when to leave and to be able to move on so when the audition is over you go, you're done—get out of the waiting room and move on with your day, move on to the next audition, don't linger. I stress a lot in the book that if you're going to call yourself a professional actor, then be prompt, early, prepared, iron your clothing, brush your hair, know your lines, have your life together so when you walk into that audition you will be you on your best day.
What other auditioning advice do you cover in the book?
Here's what you can control: You can control what you had for breakfast, you can control leaving the house at an early hour to avoid the traffic. It's taking control of your schedule, so if you know you have seven pages of lines to learn for a TV pilot, then you change your plans the night before. If you're a professional actor, then that's what you need to do in order to learn those lines. I've been appalled by what I've seen in pilot season: People want to do scenes in a different order than they're written, an actor wants to sit when we clearly want them to stand. There is some audition etiquette that I hope people will take away.
Jen Rudin is an Award-Winning New York Casting Director who grew up in New York City and began her professional acting career at age eight.
Jen spent seven years as a Casting Executive at The Walt Disney Company.  From 2002-2007, Jennifer served as head of casting for Walt Disney Animation Studios in Burbank, California and she won the 2006 Artios Award for casting Chicken Little and the 2010 Artios Award for The Princess and the Frog. From 2007-2009, she served as Director of Casting and Talent Development for Disney Theatrical Productions in New York City. Additional animated movies include upcoming Turkeys starring Owen Wilson, Woody Harrelson and Steve Martin, Meet the Robinsons (2007 Artios Nomination), The Wild (2006 Artios nomination), Academy Award Winning film The Incredibles, Academy Award nominated Brother Bear and Savva. In Los Angeles, Jennifer cast the Los Angeles premiere of Jason Robert Brown's musical "13", winner of the 2008 LA Drama Critics Circle Award.
Recent New York casting projects include the following films:  Mama (Guillermo del Toro, producer), The Lorax (Universal Pictures/Illumination Entertainment), Welcome to People (DreamWorks SKG). Tim Burton's Frankenweenie (Walt Disney Pictures), The American Plan, Shake It Up, and Peter Bogdanovich's Squirrels to the Nuts.  TV pilots include "Locke and Key" and "Touch" starring Kiefer Sutherland for Fox.  Jen has also cast hundreds of national television commercials; including the famous "Can you hear me now?" campaign for Verizon and currently casts the voices for the World of War Craft video game.  Jen has held faculty positions at Pace University and taught Master Classes at NYU, Boston Conservatory, Northwestern University, Emerson College, Webster University, Baylor University, Cincinnati Conservatory of Music, University of Colorado at Boulder, University of Wisconsin at Stevens Point, The New York Film Academy and University of the Arts.
She is the author of Confessions of a Casting Director.
/wp-content/uploads/2018/09/actors-connection-final-logo-full-color-whiteglow-300x45.png
0
0
Tony Nation
/wp-content/uploads/2018/09/actors-connection-final-logo-full-color-whiteglow-300x45.png
Tony Nation
2014-01-14 22:09:36
2019-06-04 08:23:31
Jen Rudin Spills the Secrets of Auditioning in 'Confessions of a Casting Director'