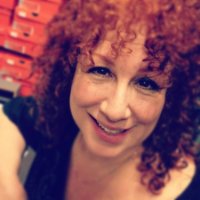 I recently had the pleasure of interviewing Pamela Kramer, Casting Director and owner of Bradley Baron, who has cast for film and TV as well as hundreds of commercials, industrials, and voice-overs.  Pamela recent film casting includes the independent film, "Torture Chamber", scheduled for release in late 2012.  Currently, she's in pre-production for TWO Horror films, a sci-fi/fantasy film called "Out of the Lantern" with award winning Director Peter Vinal and just finished casting for a new TV series called TAILGATE 48 on the Big 10 Network.

How did you get started in casting?
I've always had an eye for talent and one of my many strong points is that I can see the energy/aura around people. Therefore seeing their potential, not only for actors, but people from all walks of life.
I was teaching acting and wanted to offer opportunities for my students. So I went to the local cable networks in NJ and got them interested in using my actors in their local commercials. At the time, no one thought that cable would actually last, and well look at it now! From there I went to other producer's and then to film producer's, writer's and before I knew it, it started to take on a life of it's own.
I had at the time over 150 students and wanted to open up a variety of doors to help them gain experience.  Through some of the more well known Casting Directors of the time, I assisted with  background for major films & commercials. I was still young and not sure what was driving me, but I had many nights of no sleep from organizing the talent so they could gain experience. In actuality I lost money helping them. But those early days of figuring it out, help me to find my own passion into the casting world.
I cast for principals down the board now, except for Theater, to which I love deeply, since that is the roots of my beginnings.

How did you get started casting horror films?
Through my cable contacts I became friendly with several young filmmaker's who were working at one of the local cable companies. I started working with them on low budget horror films and one film lead to another. 100 percent of all my work comes from word of mouth and I would get calls from people who had heard about me from other Directors or Producer's.
It does pay to be a people person. Remembering a person's name, being dependable and being of service to whatever situation might arise, get's you noticed. Now I am not speaking about picking up trash……but I am speaking of being a team player and working to make the project work. Everything I do for my clients is for the benefit of their projects.  Loving the subject that your casting for, such as horror films, makes it that much more exciting. I grew up with horror films of all areas of the genre and being involved in that process brings your creativity to high speed.

What are some of your favorite horror films?
There are so many that I love! I love all the Hellraiser series of the 80's, Carrie, Dressed to Kill, The Hand, The Brain That Wouldn't Die, the television series Dark Shadows. I would run home after school everyday to watch it.  Bloody Sunday, Whatever Happened to Baby Jane, Rosemary's Baby…way too many to list all!
What are some of the skills that actors need to have for this medium?
Patience. Excitement for the genre. The openness to change and bend. Having the ability to work together for the best outcome of the film. On some of these low budget films you really do get your best training. Usually you have one or two takes, and then they move on. Many times the scripts are not well written, but you need to as the actor, make it work. On most sets, there are dialogue changes at the last minute, so you need to bend and go with it. Actors that pull prima donna moves, usually don't get asked back. No one has time to cater to anyone's ego. Especially when there is such a huge pool of talent that wants your role.
If an actor wants to get started in horror films, what are some of the things that they can do to move forward?
Go to the conventions like Chiller Theater. There you can meet the Directors & Producers in person and bring a business card with your picture on it. Producers/Directors quite often in low budget horror films will cast the actors themselves. This opens up opportunities that most actors would not ordinarily have.
If you're interested in NY acting classes with Pamela, her next 4-Week Horror Film Class starts on Thursday, November 15th at 7pm.
/wp-content/uploads/2018/09/actors-connection-final-logo-full-color-whiteglow-300x45.png
0
0
Tony Nation
/wp-content/uploads/2018/09/actors-connection-final-logo-full-color-whiteglow-300x45.png
Tony Nation
2012-10-15 23:42:54
2019-06-04 08:25:28
Getting Started in Horror Films with Pamela Kramer, Casting Director, Bradley Baron by Tony Nation