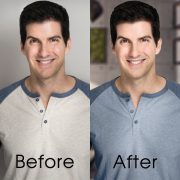 With Fall just around the corner, many actors are getting new headshots for the upcoming busy audition season. One of the common questions that many actors have is: "Is it really necessary to retouch my headshots?"
We spoke with the specialists at Reproductions- Maurice and Fyzal to get their take on this question and more.
When should actors be retouching headshots?
Maurice: You should retouch your headshot(s) once your representation has decided which image(s) they want to promote you with.  Unfortunately, some agents want to see the final image(s) retouched before they decide.  This can present a high cost to the actor.  Since they are representing you, sometimes you'll have to just bite the bullet and get them retouched.  I would encourage the actor to politely ask if their reps can decide pre retouch which image(s) they want to use and then just retouch those.
Fyzal: Actors should retouch their headshots once they are confident the choices that have been made accurately represent the part they would like to portray.
Should every image be retouched that they want to use either to print or for online submissions?
Maurice: A few years ago I would have said no.  However, now, most people assume you will do some sort of editing to an image.  So it's best to have them retouched so they are the best representation of you.
Fyzal: Although retouching may be very subtle, it represents an important step in marketing an actor and his/her brand, be it printed or online.  A professional can advise an actor whether an image should be retouched.
How much retouching is appropriate?
Maurice: For acting, always try to do light retouching.  When you over retouch that image is no longer an accurate representation of you. Furthermore, when you get called in for an audition and all they've seen is your over-retouched image you may have wasted their time (and yours) as they have a "preconceived notion" of yourself that is not accurate.
Fyzal: The amount of retouching needed is usually very light.  Every actor has their own comfort level and should have their headshots retouched accordingly, without going overboard and without making the image look over-retouched.
What do you say to an actor who is going overboard on retouching?
Maurice: Example above.  You no longer look like your image.
Fyzal: Your headshot should be a current and accurate representation of your look.  Making it look "perfect" or giving it a magazine-cover quality isn't going to help if you walk into an audition and don't look like the person in the headshot.
Can retouching headshots "make or break" an actor?
Maurice: Yes, a well retouched image will not look like it's been retouched and just looks like you.  However, as mentioned above, an over retouched image can be misleading to agents and can harm your career moving forward.
Fyzal: Retouching is one tool in the an actors toolbox.  Some headshots can be successful with little or no retouching, while other headshots might need much more retouching to be useable. Ultimately, it's the actor that gets the job, not the headshot.
ABOUT REPRODUCTIONS
Reproductions is the leading printing and digital imaging company, serving actors and other performing artists nationwide. Serving the United States, Canada and Mexico, Reproductions has set the standard for high quality photographic headshot printing and superior level of customer service since 1991. From choosing a photographer to processing a print order to editing your reel, Reproductions ensures the client experience is seamless. www.reproductions.com
https://www.actorsconnection.com/wp-content/uploads/2019/08/cropped.jpg
865
927
Tony Nation
/wp-content/uploads/2018/09/actors-connection-final-logo-full-color-whiteglow-300x45.png
Tony Nation
2019-08-26 23:13:14
2020-08-28 19:09:46
Retouching Headshots: Is It Really Necessary?