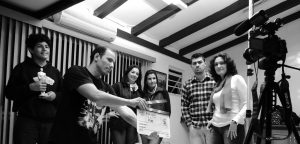 How to Get an Agent?  This elusive question comes up a lot when I give seminars. When I was a performer, I always viewed agents with this mysterious they-will-solve-all-my-problems view and thought it would be near impossible to track one down. The real question you should be asking yourself is whether or not you're ready for an agent.
There is a lot that you can do before you need an agent -the daunting and endless open calls, performing at small local theaters such as the Gallery Players or the Secret Theater right here in NYC, networking with industry professionals, etc. The more you get yourself out there and refine your talent, the more opportunity will come knocking on your door. And it's important to be ready when you hear a knock.
A great story that I love telling people is how I met a client in a reading at Gallery Players. He was phenomenal and I knew he could be on Broadway. We met, decided to work together, and 4 weeks later he was accepting his first Broadway contract. The most important thing to know is that he had already laid down the groundwork to make this happen. Sure, an agent can help and we excel at connecting the dots, but if you don't already have the seeds planted, nothing is going to grow.
So how can you start planting the seeds to your career?
While there might not be one straight path, there's certainly many routes to go. You could, for example, start working with a composer and offer to record some demos of their work, take a dance class, find the names of current Broadway directors (or their assistants!) and a small regional production that they might be directing, sing at and record a cabaret performance, etc.
You might not be headlining on Broadway today; however, imagine if you work with a director in Boise and then again in Detroit, you do solid work and are reliable night after night and build a rapport with that director. Now imagine that said director lands a Broadway show. Guess what? You will most likely get that coveted Broadway audition and get to show your stuff in front of the industries finest! If you do a good job, suddenly the casting director who never called you in before is calling you in for project after project.
These scenarios rapidly propagate and soon you might even need a manager to handle all the requests…but that's a topic for another post.
Good luck out there!
Previously at IMG Artists, Michael Imbimbio runs one of NYC's newest and most sought-after boutique talent agencies. 
9MUSE clients have appeared on and off Broadway in Doctor Zhivago, Book of Mormon, Avenue Q, Natasha, Pierre and the Great Comet of 1812, Heathers the Musical, Bedbugs!!!, Clinton the Musical, and The 39 Steps; in national tours of I Love Lucy Live, Annie, and Anything Goes; and in regional houses across the country including the world premiere of Bright Star at The Old Globe. His clients have also appeared in various TV and Film projects including Hostages, Difficult People, The Black Box, The Following, Lifetime and pilots for Comedy Central, ABC and CBS. 9MUSE recently celebrated the launch of its literary division. www.9muse.org
/wp-content/uploads/2018/09/actors-connection-final-logo-full-color-whiteglow-300x45.png
0
0
Tony Nation
/wp-content/uploads/2018/09/actors-connection-final-logo-full-color-whiteglow-300x45.png
Tony Nation
2015-11-19 22:44:38
2019-06-04 08:22:14
Inside the Industry: How to Get an Agent with Michael Imbimbo - Talent Agent and Founder of 9MUSE Talent Agency