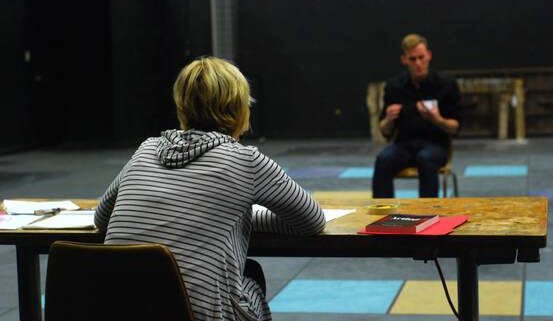 Who, what, where, when, why, and how? Before an audition, each of these is extremely important to figure out, not just for the character you're playing, but also for the production itself.
When working with actors, I've found that there are typically three types of people:
1. There's the actor that just does a shotgun approach and tries to go to as many auditions as possible. These actors are typically stressed out because they are so busy all the time and find that nothing ever seems to work for them and they never get any callbacks.
2. There's the kind that just chills out and goes to auditions when he/she wants but doesn't actually try to push their career forward, and if something happens, it happens! They are typically relaxed and happy but don't have many strong credits to their name.
Do Your Research
3. There's the kind that do research for every role they go out for and only go to the ones they actually care about and spend the time to do their homework on. These actors are typically booking a good amount of work and find themselves enjoying what they do!
Which of the three would you want to be?
When they hear that they need to do "homework," most people get worried and stressed because homework has such a negative connotation for us from school.So instead of thinking it as homework, I'd like you to think of doing research as investigating to learn more about a production. Whenever you're about to go out for an audition, you should focus on the Who, What, Where, When, Why, and How for each project.
But you need to focus on those questions for both the character you're playing AND the production team.
For the character you're playing, making a clear choice beforehand is ultra important because it will let you play the character much more authentically. Your acting will come off as multi-dimensional and even if you make incorrect choices (different than what the director was thinking), you'll at least impress the crew enough for them to give you notes to try it again, but differently.
Do go deep, answer the following questions for each audition:
• Who am I (the character) as a person?
• When and Where is this scene taking place? Has something just happened that might influence my behavior?
• What am I trying to achieve in this scene overall and also moment to moment?
• Why am I trying to achieve this goal?
• How am I going to achieve it, and how will I change my tactics throughout the scene?
Find out All you Can
Next, you'll want to find out more about the director or casting director of the project. They are going to be the ultimate decision makers. Knowing more about them ahead of time will give you some idea of how you're going to want to act in the scene. Note – when/where don't apply here, since I'll assume you already know when and where the audition is actually taking place.

• Who is the director and/or casting director as a person? What kind of projects do they typically like to work on? If you can watch some of their other projects, it might give you an idea of a style for the character they're looking for.
• What is the director trying to achieve by shooting this script? Are they participating in certain causes or do they typically like their projects to share an important message?
• Why are they doing this project?
• How can you help them achieve that goal if you were involved in the production?
By answering these questions, you're giving yourself fodder for small talk with the crew at the beginning. They'll like you more if you can show that you're a fan of some of their other work and you want to be a part of their project because of the reasons they're doing it.
Remember, not everything is about the audition. The audition is half the battle. The other half is making the right connections. The best way to do that is to do your homework in advance. Make small talk, connect, and be memorable.
If you do it right, you'll definitely be the stand-out person at the audition and they'll likely want to bring you back.
Who is Martin Bentsen?
Martin Bentsen has spoken numerous times at New York University. He has run educational seminars at Actors Connection and other acting studios as well. These seminars focus on branding and marketing strategies for performers. Mr. Bentsen has written an informational book called Get Cast™, as well. It focuses on marketing tactics actors can use to find more consistent work. He is a member of both the National Association of Sales Professionals and Sales & Marketing Executives International, two highly acclaimed marketing organizations in the United States.
Martin graduated in 2011 with honors from NYU's Tisch School of the Arts' Film and Television program. Naturally, his focus was directing. City Headshots®, which he founded in 2010, is the top headshot studio in New York according to Yelp. Martin's long term goal is to run major business and actor marketing seminars across the country while expanding his City Headshots brand to go international
https://www.actorsconnection.com/wp-content/uploads/2019/08/martin-bentsen-audition.jpg
370
553
Tony Nation
/wp-content/uploads/2018/09/actors-connection-final-logo-full-color-whiteglow-300x45.png
Tony Nation
2019-08-14 23:05:08
2020-08-28 19:10:43
Do Your Homework Before an Audition to Improve Your Chances of Being Called Back by Martin Bentsen