Let's talk about ACTOR RESEARCH.
It is easy for us to spend hours talking to actors about individualized plans of attack– every single person is different and what works for one person in this business isn't the magic juice for everyone– BUT there are a few KEY research projects that need to be a part of EVERY actor's homework.  Here's a few things to get you started!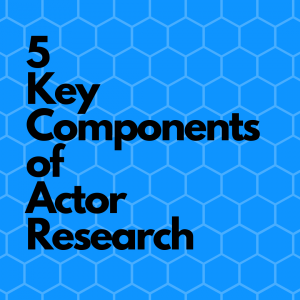 ACTOR RESEARCH HOMEWORK
1) What working actors are most like you?  Be truthful about this.  Who can you be playing right now?  Know EVERYTHING about their careers.  Jobs they booked, representation they have, casting directors who have cast them, even look into their little indie projects before they got bigger roles.  This is a great way to find scenes that are good for you that aren't super famous and recognizable but still worthwhile to perform.
2) If you need representation-RESEARCH!  The old give a man a fish and he eats for a day– teach a man to fish and he eats for a lifetime.  LEARN TO FISH– LEARN TO RESEARCH.  Google agencies.  Look up their current clients.  What are they recently booking?  How large are they?  Any pics up there of someone who may be a similar type to you?  Read their whole website.  Look at their google hits. Look at ALL of their clients if they have a roster posted.  Understand who they have and who they might need from the information you are finding.
3. KNOW YOUR CASTING DIRECTORS!  This is an extremely important part of your job. Know who is casting what– know the CDs for ALL The shows you are right for.  Take classes with THEM!  Find opportunities to get to know them.  Understand the type of projects they usually do- notice the style and genre.
Training and Strategy!
4. TRAINING.  It's a craft.  You need to be polishing and training consistently.  We're in NY and there is a LOT of competition.  The more confidence and practice you have, the more efficient your work will be when you are in high pressured situations.
5. STRATEGIZE when you aren't getting appointments.  Have an agent but STILL not getting in the room a lot? You need the list of projects you have been submitted for but not given the audition.  Then you need to develop relationships with THOSE casting directors and make sure your headshot and resume and geared to support the BOOKING of those types of roles.
There's a few things to get you started.  Don't underestimate this step!  Empower yourself with the knowledge you need to get to this next level.  I know you are working so SO hard.  I don't want you to burn out.  Instead of working harder- work smarter.
We're rooting for you!
Colleen
/wp-content/uploads/2018/09/actors-connection-final-logo-full-color-whiteglow-300x45.png
0
0
Tony Nation
/wp-content/uploads/2018/09/actors-connection-final-logo-full-color-whiteglow-300x45.png
Tony Nation
2019-01-29 12:00:41
2019-08-15 23:20:34
5 Key Components of Actor Research