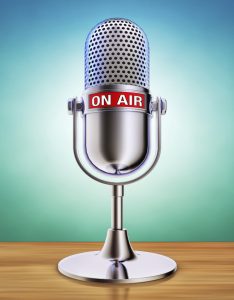 How long have you been working with V/O actors?
On The Air Production Studios was established in 1988. My background was originally in broadcasting. One of our services at On The Air Studios consisted of producing demos for clients who were interested in becoming on air personalities. At that time, radio enthusiasts wanted to become the next Imus or Scott Shannon. The radio market started to decline as radio stations started more and more to become dominated by big radio conglomerates' and DJ's were for the most part replaced by automation. We started receiving inquiries from actors who wanted to add a Voice Over demo to their resume.
What are the common misconceptions about the Voice Over business?
The belief that all you need is a great voice to make it in this business and that Voice Over is a fast and easy way to make money. It is not your voice but how you use it and market yourself.
What are the skills that V/O actors need to possess?
The ability to sound natural, confident and believable all require a myriad of acting skills. The narration talent is a master story teller. The reason that celebrity actors are booked so often for major commercials is not necessarily for their notoriety but because they do it so well. V/O actors do possess many talents which to the untrained ear are overlooked. This is because they make it seem so effortless.
When should a V/O actor record their commercial demo reel?
Only when they feel that they are properly trained and confident in their skills. Also, V/O actors should work with a seasoned producer that can guide them the process.
What should be on the commercial demo reel?
My answer to that question is always 'You'….. We all have different personalities, unique little inflections in our voices and so on. My job as a professional producer is to find that niche that makes the VO actor marketable and stand out from others. The material selected must take advantage of the VO actors uniqueness. The final results in the demo reel should be the essence of 'you'.
Do V/O actors need other types of demos? Promo, animation, narrative?
Yes they should. As a VO actor you need to be as diverse as possible. It is very important though to find the areas you are the strongest at and focus on that. If you can interpret commercial copy well or if narration is your forte then that's where your efforts should be….. Do not try to over reach. If your plan on adding a lot of variety to the demo, don't mix them all in one reel, it will only confuse the listener and make it more difficult to place you. It is sometime common to have two tracks on one reel consisting of a Commercial and Narration, Radio imaging and Animation etc, etc should be on separate demos.
Richard Bianco has more then 25 years of experience in broadcasting and audio production.  At On The Air Studios, Richard prides himself in providing one-on-one service to his clients in a relaxed,  professional atmosphere.  Check out his website for more information.
If you're looking for a voice over class in New York, visit our classes page here at Actors Connection.
/wp-content/uploads/2018/09/actors-connection-final-logo-full-color-whiteglow-300x45.png
0
0
Tony Nation
/wp-content/uploads/2018/09/actors-connection-final-logo-full-color-whiteglow-300x45.png
Tony Nation
2012-12-11 18:37:59
2019-06-04 08:25:14
Voice Overs: An Interview with Richard Bianco, On the Air Studios by Tony Nation