Hey AC clients!  I know it's hard to live a Sunday without thinking about Monday so I have some thoughts on what you can do today to help you more successfully attack the week ahead.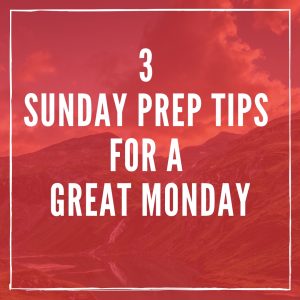 1) Write out your schedule for the week.  Set aside blocks of time to check for auditions, research projects and build your own content on social media.  If you are working on a bigger project, like writing a screenplay or a series, make sure you schedule writing time in as well.  Hold yourself accountable to this schedule.  Schedule in social media and then keep it closed while you are getting your other tasks done.
2) Write a mantra for the week that will help you feel motivated and energized.  Make sure it is written in a positive form and read it to yourself at different points during the day.  Think of this as a quick tune-up to help you keep moving towards what matters and aware of all the little hidden opportunities you may have been missing before.
Here are some examples:
I am creatively and effectively accomplishing my goals all week long.
I am finding and taking abundant opportunities.
I'm constantly taking action for my career and celebrating my successes.
3) Imagine your week going by PERFECTLY.  What do you do?  Who do you see?  How do you feel?  What actions are you taking?  Go thru the who/what/where/when/how.  Imagine it all in your head like it's the part of the movie where EVERYTHING is going right for the main character (YOU!).  Many Olympic Athletes practice positive visualization techniques during training and science tells us that firm visualizations in full detail on a constant basis DO IMPACT PERFORMANCE.  Are you visualizing your auditions yet?
-Colleen
Actors Connection President
/wp-content/uploads/2018/09/actors-connection-final-logo-full-color-whiteglow-300x45.png
0
0
Tony Nation
/wp-content/uploads/2018/09/actors-connection-final-logo-full-color-whiteglow-300x45.png
Tony Nation
2019-01-06 17:16:08
2019-08-15 23:22:02
Three Sunday Prep Tips For a Great Monday