Free Headshot Marketing Seminar: Taught by Master Headshot Photographer Douglas Gorenstein
Tuesday, March 19, 2019, 4:00pm
This event is in the past.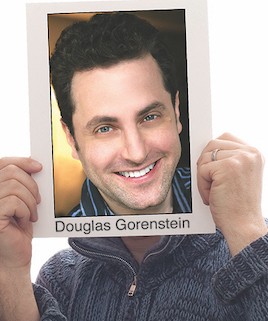 Actors Connection Presents:
A FREE Headshot Marketing Seminar taught by

master headshot photographer

Douglas Gorenstein who

served as the photographer for The Tonight Show Starring Jimmy Fallon.

He was voted favorite headshot photographer in New York by the readers of Back Stage.
The Headshot Marketing Seminar is designed to teach adult actors and stage parents the do's and don'ts of getting their headshots done right and then how to use them to effectively market yourself.
As an added bonus Douglas will teach you how to "make an entrance" and create "big camera moments" when appearing as a guest on TV talk shows for the still photos taken for publicity purposes.
The Headshot Marketing Seminar Syllabus:
Understanding the industry standards for headshots– Commercial, Legit, TV, Film, & Musical Theater.

Preparing for your headshot session – How to look your best on your big day.

Defining your type – Be sure your headshots make sense for who you are as an actor and how to communicate this to your photographer.

Wardrobe choices – What to wear and what not to wear. Colors, necklines, styles and what they say about you.

Lighting- The pros and cons of natural, studio, & mixed lighting.

Shooting - Indoors vs Outdoors.

Hair and Make-Up – Keeping it real. Curly Hair vs Straight Hair.

How to work in front of a still camera –Tips to make you feel alive, connected and to bring out your personality.

Your right's as an actor and what you should demand of your headshot photographer.

Tips for how to choose your final images.

Retouching – What is acceptable and doable in the retouch process.

Prints – Making sure your 8x10s are done to perfection. Color correction, exposure & contrast. Borders and fonts.

What Casting Directors and Agents look for in a headshot
Please bring your current headshot if you have one so Douglas can give you feedback.
All attendees will receive a special Actors Connection
Headshot Marketing Seminar $50 Gift Certificate towards a 2019 Headshot Session with Douglas Gorenstein ... "You're Welcome!"
DouglasGorenstein.com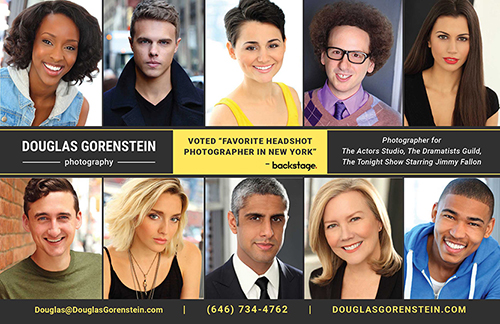 Douglas Gorenstein
For me to capture your photography moments, whether it's headshots or a major production, we need to get to know each other so I can understand what's unique about you and your photography objectives.
I'll go first:
Originally from Michigan, now reside in New York City with my wife and two sons.
Grew up playing ice hockey, baseball and performing in theater.
Dilly The Pug was my childhood dog and we were inseparable. My kids now love that internet sensation Doug The Pug and I share the same birthday (May 20th).
Served for several years as the official photographer for The Tonight Show Starring Jimmy Fallon shooting almost every major star on the planet.
My regular corporate clients include SAP, TD Bank, Mark Burnett Productions, Anchorage Capital, ScreenVision, & NBC.
Do you like Ben & Jerry's? If you eat the Tonight Dough Ice Cream, cover up the H in Dough and you will get the first name of the photographer who took the shot of Jimmy- yes me! I donated 100% of that fee to the Serious Fun Children's Network which provides seriously ill children and their families the chance to attend a life changing camp experience which promotes confidence, independence and resilience at no cost.
My photos have appeared in major publications all over the world including: The New York Times, Washington Post, Entertainment Weekly, People, US Weekly, Time, Vogue, New York Magazine, TV Guide, LA Times, Variety, The Hollywood Reporter, The Wall Street Journal, Daily Mail.
I love chocolate, spinning, photography and my family (but not necessarily in that order).
Okay now it's your turn! You can get in touch via the Contact section of this website, email direct Douglas@DouglasGorenstein.com or dial me up at 646-734-4762.
I'm excited to learn more about you and your photography needs!
Best, Doug
The following disclaimer is provided specifically at the request of and in accordance with SAG/AFTRA: Seminars or classes are for educational purposes only and will not secure or provide opportunity for employment in the field or representation by an agent or casting director.