FREE SEMINAR - NAILING YOUR HEADSHOTS with NYC photographer RJ Lewis
Friday, April 19, 2019, 12:00pm
This event is in the past.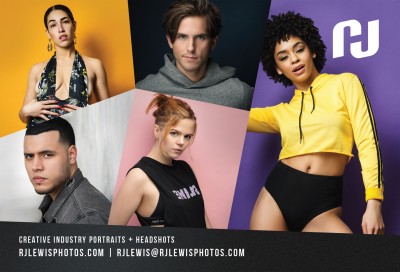 This is a sit down, Q&A style seminar where you the actor get to ask me questions you have been wanting answers to about Headshots. Spolier Alert! There are no secret tricks when it comes to Headshots.

In this seminar, I am striving to cut through much of the BS information people are peddling since the early 90s about what makes a great Headshot or the rules you should follow and really open your eyes to want really makes an Impactful Headshot. Spoiler Alert!!! It is You!

In this seminar we are going to cover:

What to wear for yourHeadshots? This will consist of color theory, defining your skin color, breaking down your wardrobe to the looks you want to capture.

Getting specific with your looks for your session

Importance of having a Hair and Makeup Artist. That also goes for men

Why having at least 3 specific looks is very important

Difference between Natural Light and Studio Light

And so much more…

If there is still time after the seminar I will give you my honest feedback on your current Headshot.

Also everyone attending this seminar will receive 10% off their Headshot Session with me when you use the Promo Code AC19.

Hope to see everyone there!!
RJ Lewis
RJ Lewis is Born and raised in Brooklyn. I first studied acting and worked as an actor for 6 years. While getting my own Headshots taken, something funny happened. I found myself more interested in what my photographer was doing and less about why I was actually there. At that moment I realized that my fascinations with cameras and photography as a young child was my true passion.

As I delved more and more into the world of photography I fell in love with photographing people and bringing out their true beauty. I am inspired every day by the work of Lara Jade, Justin Patterson, Peter Lindbergh, Peter Coulson, etc.. I am always looking to create something like no other and keep pushing not only my boundaries, but everyone who steps in front of my camera. It is a true collaboration when we work together and as a team we create something meaningful and leaves and impact on the viewer.

Forget the glitz and glamour… Simple and impactful! Lets create!

For more info on RJ and his photographer, check out RJLewisPhotos.com
The following disclaimer is provided specifically at the request of and in accordance with SAG/AFTRA: Seminars or classes are for educational purposes only and will not secure or provide opportunity for employment in the field or representation by an agent or casting director.