LA PILOT SEASON FESTIVAL - Actors Online Showcase To 13 VIPs
Monday, February 3, 2020,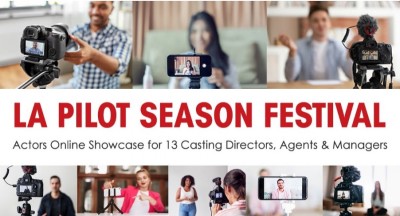 Actors Connection is proud to present the LA Pilot Season Festival; an online event that virtually introduces performers based anywhere to a powerhouse line-up of thirteen industry professionals in Los Angeles!
Register and participate ANYTIME between today and the deadline of Feb. 3, 2020, while space lasts. Open to actors of all levels ages 16 and up. Early-bird discounts only valid through Dec. 31, 2019!
Introduce yourself and virtually perform for casting directors, talent agents and personal managers working in the Los Angeles market this upcoming Pilot Season. Whether you live in LA or beyond, this festival is perfect for actor's eager to learn about their potential in the largest film & television market in the world, all from the comfort of your own home.
SPECIAL GUEST LINE-UP:
5 CASTING DIRECTORS
★ Steven O'Connor (IMDb)
★ Jordan Bass (IMDb)
★ Ani Avetyan (IMDb)
★ Jeremy O'Keefe (IMDb)
★ Chadwick Struck (IMDb)
5 TALENT AGENTS
★ Daniel Leventhal (CESD)
★ Janelle Bernard (Daniel Hoff)
★ Andrew Burrill (Sovereign)
★ Sueanne Edan (Tangerine)
★ Craig Holzberg (Avalon)
3 PERSONAL MANAGERS
★ Paul Trusik (Trusik Talent)
★ Debralynn Findon (Discover)
★ Jerry Silverhardt (Silverhardt)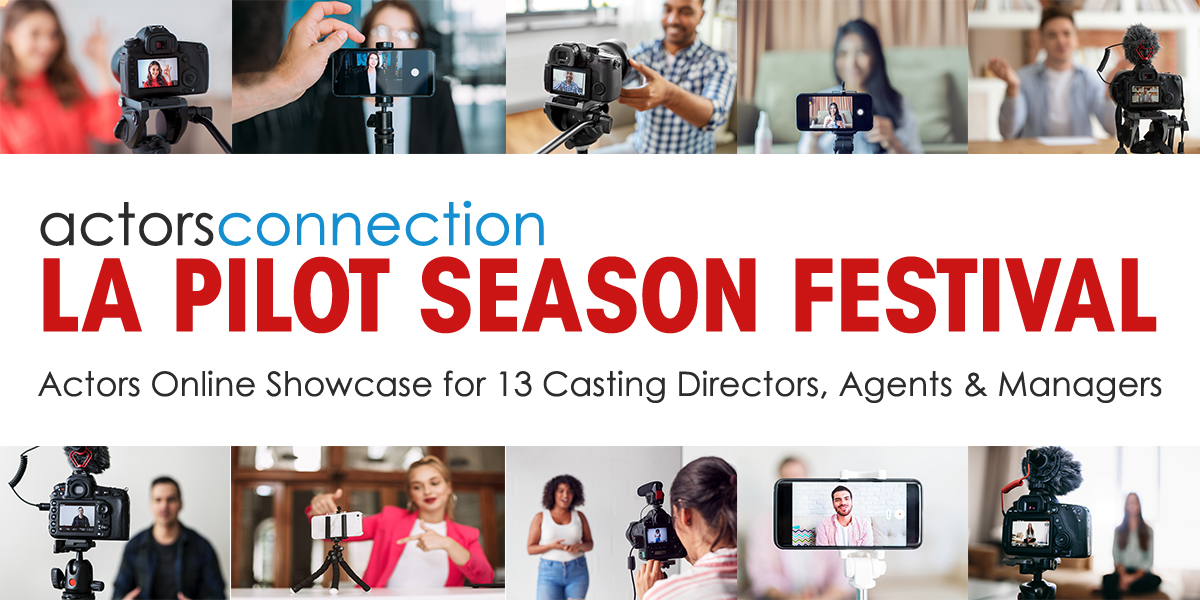 Get ready for Pilot Season in Los Angeles, with more shows and auditions expected than ever before! Each year, the major American broadcast television networks – including ABC, CBS, The CW, FOX, NBC, Disney – cast for their new TV shows, also known as pilots.
Introduce yourself and perform for VIPs that have worked on pilots among many other exciting projects, and get a foot in the door before the busiest time of the year.
HOW TO PARTICIPATE:
1. Registered performers will submit a scene via self-tape to be reviewed by each industry guest.
2. The announced VIPs will watch submissions and provide feedback for each actor with performance assessment and written advice.
3. Actors will privately be emailed a packet of feedback forms, one from each VIP, at the conclusion of the festival.
***After you successfully purchase a festival pass and register, email la@actorsconnection.com to request instructions on how to prepare and submit your self-tape for the festival showcase.
DATES & DEADLINES:
Last day to register and submit a self-tape is on Monday, Feb. 3, 2020, pending space availability.

Early bird discounts only valid until December 31, 2019.

Open to actors of all levels ages 16 and up. Space is limited on a first-come, first-served basis.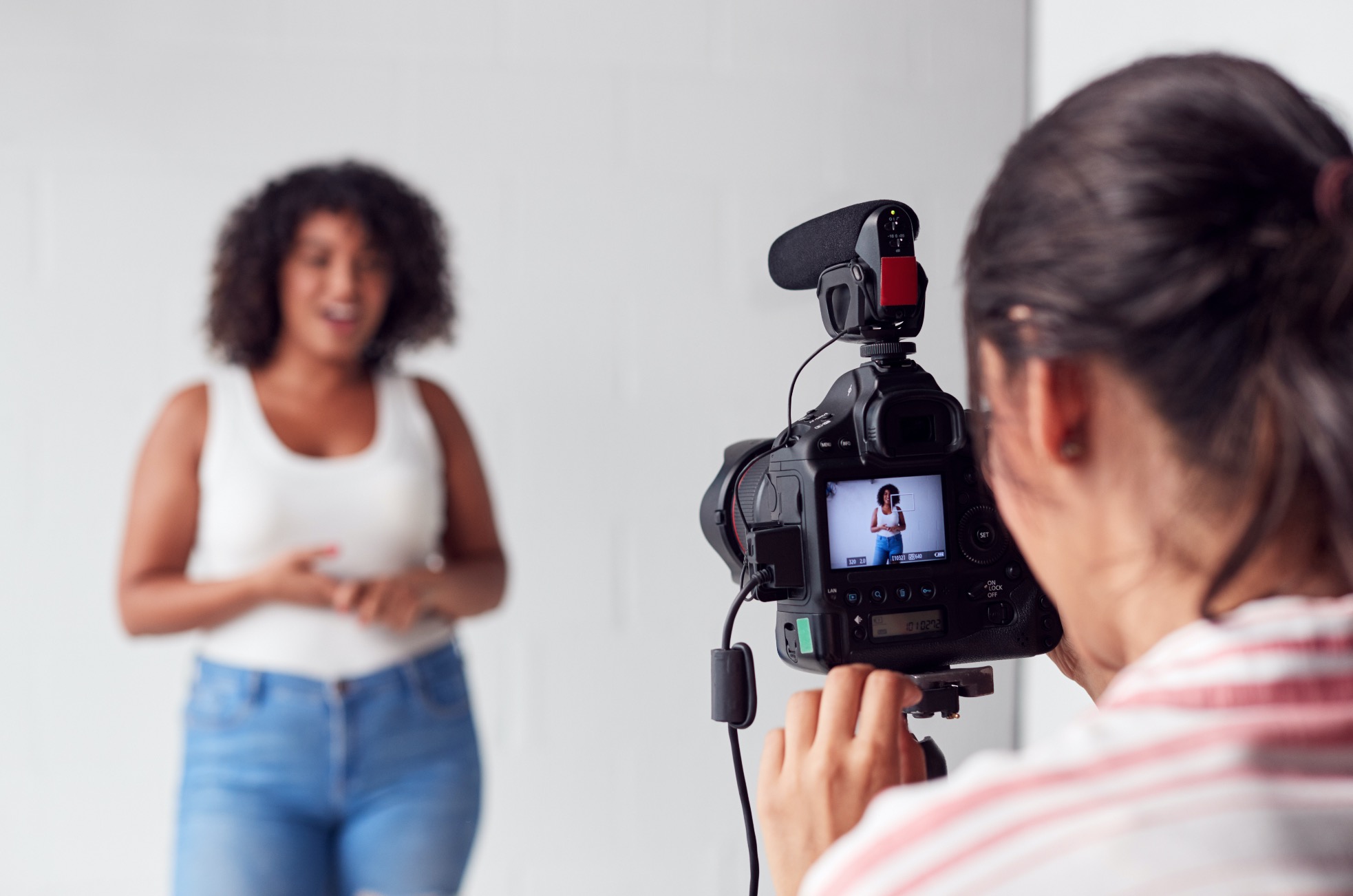 CHOOSE FROM THESE FESTIVAL PASSES:
***After you successfully purchase a festival pass and register, email la@actorsconnection.com to request instructions on how to prepare and submit your self-tape for the festival showcase.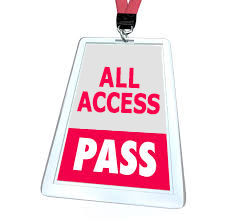 ALL ACCESS PASS *BEST VALUE* – Access to all casting directors, talent agents and personal managers participating in the festival (13 guests total)
Early Bird Price: $299
Original Price: $349
➯ FOR AN ALL-ACCESS PASS CLICK "REGISTER" AT THE TOP OF THIS PAGE AND CHECK-OUT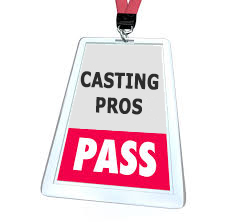 CASTING PROS PASS – Access to all casting directors participating in the festival (5 guests total)
Early Bird Price: $159
Original Price: $179
➯ FOR A CASTING PROS PASS CLICK "REGISTER" AT THE TOP OF THIS PAGE THEN USE DISCOUNT CODE: LACASTINGPASS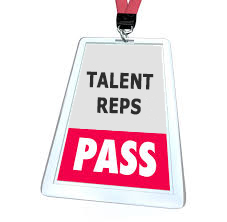 TALENT REP PASS – Access to all talent agents and personal managers participating in the festival (8 guests total)
Early Bird Price: $179
Original Price: $199
➯ FOR A TALENT REP PASS CLICK "REGISTER" AT THE TOP OF THIS PAGE THEN USE DISCOUNT CODE: LAREPPASS
Festival Guests
CASTING DIRECTORS
Steven Tyler O'Connor
IMDb | Steven Tylor O'Connor is the 2019 CSA Casting Associate of the Year working at Aufiero/Horn Casting. He's been nominated for three Artios Awards (For "Nicky, Ricky, Dicky, & Dawn" and twice for "Andi Mack"). Steven has worked in casting since 2008, first at CBS/Paramount in their primetime scripted casting department, then for NBCUniversal in New York until he relocated to LA. In Los Angeles, he has also worked in production casting for Greenstein/Daniel Casting and Suzanne Goddard-Smythe Casting. Independently, Steven has cast indie features, shorts and web series. Outside of casting, Steven writes and produces content.
Jordan Bass
IMDb | The brother-sister team Lauren & Jordan Bass – is a bi-coastal casting company that specializes in curating strong ensemble casts across film, television, & new media. TV credits include: Beerfest (CW Seed), Hyperlinked (YouTube/Disney), The 5th Quarter (Go90), Ed Burns' Public Morals (TNT), Spartacus: Blood & Sand (Starz), Big Time Rush (Nickelodeon), and Vin Diesel's The Ropes (Crackle). Recent films include: Taylor Sheridan's Wind River starring Jeremy Renner and Elizabeth Olsen, Izzy Gets the F*ck Across Town starring Mackenzie Davis, Carrie Coon, LaKeith Stanfield & Alia Shawkat, Brampton's Own starring Alex Russell, Jean Smart & Rose McIver, A Violent Separation starring Brenton Thwaites, Gerald McRainey, Ted Levine & Claire Holt and Grand Son starring Rhys Wakefield, Danielle Campbell & Lesley Ann Warren. Other film credits include: New Line's Annabelle, Blumhouse's Martyrs, HBO/Project Greenlight's The Leisure Class, and Louder Than Bombs directed by Joachim Trier (LA casting). For more information, visit basscasting.com.
Ani Avetyan
IMDb | Ani is a casting director who worked on Major Crimes, Hellcats and The Closer in the past. Ani's other casting credits include Primo, Leaving Barstow, Homecoming, Stalkers, Emily Owens MD, Holiday Spin, School and Board, Trust Me, Twenty Good Years and Bad Teacher. Recently Ani had her directing debut with the Los Angeles production of "The Understudy" at the Hudson Guild Theatre. Learn more about Ani's current and past projects by visiting her IMDB and make sure to check castingabout.com too!
Jeremy O'Keefe
IMDb | Jeremy is a Los Angeles-based writer/director/producer most known for his critically-acclaimed and award-winning feature film, Somewhere Slow. Under his production company, Shell Rd., with his partner Graham Patrick Martin (Catch-22, Major Crimes) recent producing/casting credits include Remind Me, the film debut of Tony-winner Rachel Chavkin (Hadestown) and Sophie's Quinceañera from director Keith Powell (30 Rock). Additionally, he teaches nationwide and has worked on the casting team for over 25 shows for NBC, CBS, ABC, Comedy Central, Fox, Freeform, BET, TBS, Netflix, Peacock, Fox, etc.
Chadwick Struck
IMDb | Chadwick has been in the entertainment business since 1997. He has worked in: Feature Film, Television, Theater, Short Film, Digital, and Commercials / PSA. The start of his career was very academic, very much a post educational experience working on three well known Science Fiction TV series and also a year working at the largest Theater on the West Coast, the prestigious Center Theatre Group of Los Angeles: Mark Taper Forum & Ahmanson Theater. After working seven years primarily in Television & Theater he then began to cast for Feature Films.
In 2007 he started his own company. He has cast studio and independent projects. Chad has also produced eighteen films. He has a several new films he is Casting & Producing. Mr. Struck is excited for the future, as he will continue to thrive in casting, filmmaking, & creating content for all forms. He is always looking to meet new actors and loves to be available to the actors that he meets.
Notable recent films include OUTLAWS & ANGELS (a film he Co-Produced & Cast) premiered as a SUNDANCE Selection at the 2016 Festival. This film was mentioned as #17 on 21 Best Films of SUNDANCE 2016, as well as ARCTIC (2019), THE SWING OF THINGS (2020), ASKING FOR IT (2020), ANTI-LIFE (2020), BEYOND PARANORMAL (2020), THE OBSERVANCE (2020).
TALENT AGENTS
Daniel Leventhal (CESD Talent Agency)
Website | Dan is a theatrical agent at CESD, one of the nation's most prestigious agencies and a dominant force in our industry. CESD has thirty-seven agents in its two offices in LA and NY. It continues its innovative industry dominance through the multitude of changes brought on by the digital world.
Janelle Bernard (Daniel Hoff Agency)
Website | Janelle is a theatrical talent agent at the Daniel Hoff Agency, one of the most successful and well-respected talent agencies in Los Angeles. Clients of this agency can be seen on TV (Sunnyside, MacGyver, Dear White People, Glow), Film (Ted, Erin Brockovich, the upcoming live-action Mulan), as well as in commercials, print, and on Broadway.
Andrew Burill (Sovereign Talent Group)
Website | A millennial Virginian with degrees in Drama and Arts Management from the University of Virginia and Shenandoah Conservatory, Burrill started his entertainment career as a Talent Manager with Bohemia Group where clients included Bronson Pinchot (Perfect Strangers, The Chilling Adventures of Sabrina, Beverly Hills Cops), Annet Mahendru (The Americans, The Romanoffs), Chester Lockhart (Glamorous, Todrick), Karly Rothenberg (American Vandal, The Office, Speechless), and Oscar-award winner Nick Vallelonga (Greenbook - Writer, Executive Producer).
Andrew's past producing credits include A BLOSSOM IN THE NIGHT starring Junior Nyongo, the brother of Oscar-award winning actress Lupita Nyongo, as well as having produced and cast music videos for Nickelback, Jason Derulo, Lil Yachty, Lloyd, Rosette, and Walé, amongst many others.
Andrew is currently a Talent Agent with Sovereign Talent Group where his celebrity clients include Mr. T (The A-Team, Rocky III), Eric Roberts (Runaway Train, King of the Gypsies, Star 80), Dan Castellaneta (Homer Simpson) Tina Louise (Gilligan's Island, Stepford Wives) Corey Feldman (The Goonies, Gremlins), Matt Frewer (Watchmen, Fear of the Walking Dead), Talia Shire (Rocky, The Godfather), Charlayne Woodard (Pose, The Crucible), and Hulk Hogan, to name a few.
With his unrelenting spirit, a dedication to incredible art, and an honest desire to do right by his clients, Burrill has achieved and exceeded his dreams by working daily to empower and uplift artists.
Sueanne Edan (Tangerine Talent Agency)
Website| Originally from New York, Sueanne Edan, a Theatrical Agent with Tangerine Talent is now based in Los Angeles. Sueanne is a renowned 'go-to' for rising stars as well as more established actors. As a parent of two successful child stars with TV and film credits, Sueanne has her fingers on the Hollywood pulse by being in daily contact with casting directors and other industry professionals. In 2012 Sueanne co-founded ACT Like A Child Magazine, a publication dedicated to educating actors by enriching them on the complexities and different aspects of the entertainment industry. Having a business background Sueanne knows the importance of keeping up to date with the new trends in the industry and is a big believer in continuing to learn and passing that knowledge along to her clients. If you ask Sueanne for one bit of advice to get your acting career going her answer is going to be " Keep taking classes and learn as much as you can about the business"
Craig Holzberg (Avalon Artists Group)
Website| Craig is the founder and owner of Avalon Artists Group, a full-service talent agency. Avalon Artists Group has offices in LA, NY, ATLANTA, MIAMI and CHICAGO. The Avalon team prides themselves on being directly involved in all aspects of their clients' careers. Avalon Artists Group represents actors of all ages for TV, Film, Theatre, Commercials and Voice Over. Avalon Artists Group is an AFTRA and AEA franchised agency as well as a proud member of ATA and NATR.
PERSONAL MANAGERS
Paul Trusik (Trusik Talent Management)
Website | Paul runs Trusik Talent Management, an LA firm that guides and cultivates the careers of young actors and writers. He is a two term Past President of the (TMA) Talent Managers Association. The TMA is the national trade group of professional managers and produces the annual "TMA Heller Awards", a ceremony attended by Casting Directors, Agents & Managers in Hollywood. Paul was awarded the Talent Manager of the Year Award® twice by his peers in the TMA.
He is an Emmy voting member of (ATAS) The Academy of Television Arts & Sciences and a Spirit Awards voting member of Film Independent (presenters of the Spirit Awards & LA Film Festival). Paul was a Co-Producer as well the Casting Director on his first feature film—a suspense mindbender entitled 'Guys Reading Poems' that was accepted into 9 film festivals that secured distribution with Gravitas for 2018.
Paul's clients can be seen on national Farmers Insurance and Subaru commercials running this fall season. In 2019 his clients have appeared on: NCIS, NCIS:LA, Shameless, All-American, Bluff City Law, Grey's Anatomy, Sunny in Philly, Lucifer, and Westworld to name a few. As well, upcoming new series Netflix's 'Hollywood', Fox's '911: Lone Star' & Paramount TV's 'Coyote' premiering in January 2020.
Debralynn Findon (Discover Management)
Website | Debralynn is the owner and manager at Discover and has been creating & guiding the careers of artists of all ages in the entertainment industry with pride and professionalism. Discover Management's mission is to develop and counsel our talent on all matters related to their careers within the entertainment industry. This includes but is not limited to acquiring future work, personal and career guidance, as well as the day-to-day business affairs on their behalf. Discover works with agencies all over the country. We proudly and effectively represent seniors, adults, teens and kids in Film, Television, Commercial, Hosting, Voice Over, New Media, Modeling, and Print.
Jerry Silverhardt (Silverhardt Entertainment)
Website | Jerry is a respected talent manager and producer, who has a great ability to open doors and groom performers. Tom Cruise, Dylan McDermott, Gabrielle Anwar and Richard Grieco are but a few of the actors that he helped launch. Jerry has produced several network shows, most memorably, "Marker," for UPN starring Richard Grieco, created and Executive Produced by the prolific Stephen J. Cannel. Jerry has also produced or co-produced telefilms for Fox Broadcasting Network and USA Network. Jerry represents many up and coming actors in both film and TV.
Cancellation Policy: Cancellations must be made no later than the last day of registration, February 3, 2020 for a full Actors Connection credit to be issued. Cancellations made after the last day of registration will not be credited. There are no refunds for this event.
Questions about this event? Need help regarding LA programs?
Please email la@actorsconnection.com.
Actors Connection is in full compliance and BONDED (#14-SUR-140824) with the State of California.
Meets
| | |
| --- | --- |
| Monday, February 3, 2020 | 12:00 am THIS IS THE DEADLINE - SUBMISSIONS ARE OPEN TIL FEB. 3, 2020, SPACE PERMITTING. (This program is "virtual" and does NOT meet in-person.) |
The following disclaimer is provided specifically at the request of and in accordance with SAG/AFTRA: Seminars or classes are for educational purposes only and will not secure or provide opportunity for employment in the field or representation by an agent or casting director.