AC in LA! "Cold Reading for TV v. Film" On-Camera with CHADWICK STRUCK, Casting Director
Thursday, February 21, 2019, 7:00pm
This event is in the past.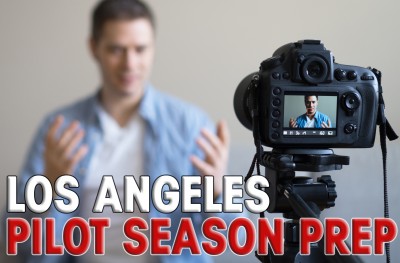 Learn to book TV shows during Pilot Season in LOS ANGELES with this special one-night only class taught by Chadwick Struck, LA Casting Director/Producer.
Chadwick has cast studio and independent projects as well as short films that have been on the short list for Academy Award consideration. He also produced twelve films (see bio below).
This class is held at:
Space Station Casting Studios
in "Studio #6"
950 N Cahuenga Blvd.
Los Angeles, CA 90038.

Each year, major American broadcast television networks like ABC, CBS, The CW, FOX, NBC, etc. – cast for their new TV shows, also known as "pilots". Train with Chadwick and focus on cold reading while learning about the busiest season for casting.
Students will be recorded ON-CAMERA and video clips will be made available after class. Actors are encouraged to playback each clip, consider the instructors feedback and evaluate your progress. Clips can be accessed online through your profile at actorsconnection.com and will be posted one-week following the class date.
Instructor Lesson Plan
CLASS FORMAT:
Group Q&A with Class Materials/Cold Sides Provided On-The-Spot By The Instructor for Scene Work
Chadwick will take questions and focus on:
Who he is, his resume, talk about current projects that he is able to discuss, and how his office works.

General audition tips, business tips and educational information

The difference between auditioning for Feature Films vs. auditioning for TV

The importance of being prepared, and the importance of honing cold reading skills

How important it is for actors to keep their information up-to-date (headshot/resume, websites like Actors Access, IMDB, etc.)

Actors are encouraged to ask any industry related question as Chadwick enjoys helping actors and giving professional insight to the business.
After the Q&A, students will perform cold scenes assigned on-the-spot. Scene work will be:
One-on-One setting, where we can work together with feedback and/or direction on the scene.

If more questions arrive in either of these settings, they too will be answered.



Chadwick will provide feedback and/or re-directs whenever possible. He will not be taking the headshots, but actors should still bring them so he can provide feedback and comments on both pictures and resumes.
Chadwick Struck
CHADWICK STRUCK, LA CASTING DIRECTOR, CHADWICK STRUCK CASTING & PRODUCER
IMDb | Chadwick Struck has been in the entertainment business since 1997. He has worked in all formats: Feature Film, Television, Theater, Short Film, Digital, and Commercials / PSA. The beginning of his career was very academic, almost like a post educational experience working on three well known Science Fiction TV series and also a year working at the largest Theater on the West Coast (Center Theatre Group of Los Angeles: Mark Taper Forum & Ahmanson Theater). After working seven years primarily in Television & Theater he then began to cast for Feature Films.
In 2007 he started his own company. He has cast studio and independent projects. Chad has also produced twelve films. He has a couple new films he is Casting & Producing; and several others in development. He has also cast internationally recognized short films; a few in which have been on the short list for Academy Award consideration.
In this time he has been developing great relationships with the acting community, talent agents, talent managers, & Producers.
OUTLAWS & ANGELS (a film he Co-Produced & Cast) premiered as a SUNDANCE Selection at the 2016 Festival. This film was mentioned as #17 on 21 Best Films Of SUNDANCE 2016, click here for a featured article from Variety.
Mr. Struck is excited for the future, as he will continue to thrive in casting, filmmaking, & creating content for all forms. He is always looking to meet new actors and loves to be available to the actors that he meets.
*Scenes will be recorded on-camera and will be made available to you within a week via your actorsconnection.com profile in the "My Videos" tab. Please note: from time to time technical issues do occur. As a result video clips from class are a courtesy, not a guarantee.*
Cancellation Policy: Cancellations must be made with 1 weeks advance notice before the program start date for a full Actors Connection credit to be issued as space is limited. Cancellations made less than 1 week before the start date will not be credited. There are no refunds.

Questions about this class? Need help regarding LA programs?
Please email walid@actorsconnection.com.
Actors Connection is in full compliance and BONDED (#14-SUR-140824) with the State of California.
Meets
| | |
| --- | --- |
| Thursday, February 21, 2019 | 7:00 pm |
The following disclaimer is provided specifically at the request of and in accordance with SAG/AFTRA: Seminars or classes are for educational purposes only and will not secure or provide opportunity for employment in the field or representation by an agent or casting director.