AC in LA! "COMMERCIAL CONNECTION" ALL-DAY with 4 VIPS: Casting Director, Commercial Director and 2 Talent Agents!
Saturday, March 23, 2019, 10:00am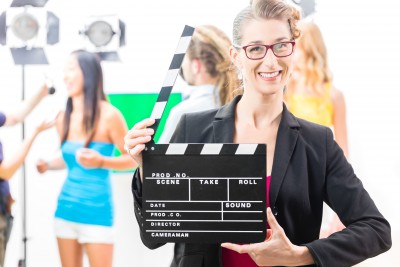 Commercials are a popular way for actors to make lucrative money while persuing their craft, and they can be fun too.
Coach on-camera with award-winning Casting Director Lisa Pantone in the morning then perform for two Talent Agents and a Commercial Director in the afternoon and receive intensive feedback.
Tentative Schedule
10AM - 1PM - Coaching with Casting Director
1PM to 2PM - Lunch Break
2PM to 5PM - Showcase & Feedback with 2 Talent Agents & 1 Commercial Director

This class is held at:
Space Station Casting Studios
in "Studio #5"
950 N Cahuenga Blvd.
Los Angeles, CA 90038.

Work with 4 VIPs in this all-day event:

-Lisa Pantone, Casting Director, Pantone Casting
-Julie Gudz, Talent Agent, DDO Artists Agency
-To Be Announced, Talent Agent
-To Be Announced, Commercial Director
Students will be recorded ON-CAMERA and video clips will be made available after class. Actors are encouraged to playback each clip, consider the instructors feedback and evaluate your progress. Clips can be accessed online through your profile at actorsconnection.com and will be posted one-week following the class date.
Instructor Lesson Plan
CLASS FORMAT:
Students will prepare TWO commercials of their choice in advance and present on-camera in a class room setting with a reader. Commercials should be no longer than 30 seconds each.
In the morning, Lisa will provide coaching with feedback and/or redirects whenever possible. In the afternoon, students will present sides to a Commercial Director and two Talent Agents for professional advice. All instructors will answer questions in an in-depth Q&A session.

***Commercial Copy is available through your Actors Connection account upon registration. You also have the option to bring in your own 30-second commercial copy. Please remember to bring an extra copy of your chosen sides for the reader.***

Students will learn:
Commercial Auditions defined
Commercial Acting v. Narrative Acting
What to expect at a commercial audition
Auditioning with props/costumes
The commercial casting process
Casting etiquette, methodology and peculiarities
Making bold and informed choices
Listening and reacting
Selling the "product"
Presence and staying "in-the-moment"

Lisa Pantone
LISA PANTONE, CASTING DIRECTOR/OWNER, PANTONE CASTING
Website | LisaPantone has been casting award winning projects for over 20 years and just recently formed Pantone Casting LLC along with her daughter Gigi Berry who brings a fresh and modern view to the business. They work closely with all of the Top Agencies and Management Firms all over the world to provide the best casting and Talent possible for each project that they are involved in.

As a result of Lisa and Gigi's instinct for the understanding of Commercial, TV, Films, Theater, story telling, and their ability to identify the vision of their directors, many of their projects have gone on to be recognized, nominated, and have garnished numerous awards and honorable mentions.

Together they have been honored to work with some of the most notable Commercial, Film, TV and Theater Directors, Writers and Exec Producers in the business. Lisa is an "in demand" acting coach which allows her to practice her second love of nurturing, guiding and developing the actor's craft.
She has developed a well-earned reputation within the acting community throughout the United States as an extraordinary private coach, teacher, and mentor – keeping her very much in demand all over the United States. Lisa also makes contact through her Master Workshop allowing her a "first look" at fresh, undiscovered talent that she is able to bring to the attention of her Directors, Producers, Writers and Ad Agencies.

*Lisa has recently been named as "HEAD OF CASTING" for the prestigious INKWELL THEATER for the Emmy Award winner and Executive Director, Elliot Shoenman and his son, Artistic Director, Daniel Shoenman.
*Scenes will be recorded on-camera and will be made available to you within a week via your actorsconnection.com profile in the "My Videos" tab. Please note: from time to time technical issues do occur. As a result video clips from class are a courtesy, not a guarantee.*
Cancellation Policy: Cancellations must be made with 1 weeks advance notice before the program start date for a full Actors Connection credit to be issued as space is limited. Cancellations made less than 1 week before the start date will not be credited. There are no refunds.

Questions about this class? Need help regarding LA programs?
Please email walid@actorsconnection.com.
Actors Connection is in full compliance and BONDED (#14-SUR-140824) with the State of California.
Meets
| | |
| --- | --- |
| Saturday, March 23, 2019 | 10:00 am |
The following disclaimer is provided specifically at the request of and in accordance with SAG/AFTRA: Seminars or classes are for educational purposes only and will not secure or provide opportunity for employment in the field or representation by an agent or casting director.