THE 5 STEPS TO NAILING COMMERCIAL COPY with Brette Goldstein, Casting Director/Producer, Brette Goldstein Casting
Tuesday, July 6, 2021, 2pm ET / 11am PT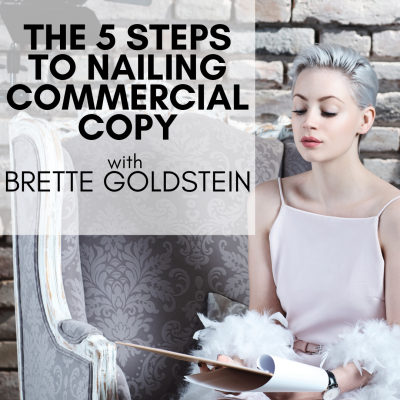 Are you ready to BOOK more commercial work?

Then don't miss this new intensive that's all about teaching the INDUSTRY how to cast YOU. It's about doing a deep dive into awesome, authentic YOU, and giving casting and producers the opportunity to experience a brand through YOUR eyes, your unique world view.

After helping actors audition successfully for Commercials for years, Brette has boiled down her advice to a succinct 5-step system for nailing commercial copy.
While working one on one with her, students can see first hand how vastly different each actor's performance is, and how specific and authentic their own, unique delivery can be.

This online intensive will give all actors sense of what auditions look like from the perspective of a casting director. We can see the same copy all day and everyone's performance is different. The actors that book elevate the copy by bringing their own special mojo to it. Their unique voice. Brette is a pro at helping actors find their mojo and bring it out in their performance.
:
"Thank you for another wonderful class! I'm so happy I was able to attend. You always bring such warmth and humor to class, and I learn as much from your comments to others as to me. Your generosity of time is incredible!"
-Tricia McGuinn

"I just wanted to let you know how helpful your class on How to Nail Commercial Copy was last week. I plan to work at making my delivery feel more personable and warm. Your points were clear and specific. I plan to get better at delivering commercial copy by incorporating your amazing suggestions!"
-Eileen Heffernan

"Thank you so much for sharing your humor, your warmth and your expertise today. I truly appreciate how much you give to each student - I learned not only from what you said to me personally, but also to each student in the class. I've taken myriad classes at Actors Connection and although I've enjoyed and learned something in each, the depth of your insight into each student is truly remarkable and, I believe, incredibly helpful in assisting each of us to become our best, most successful actor selves."
-Danielle C. Tezcan

"I was one of the auditors in your Commercial Copy Intensive today and I just wanted to quickly thank you for your time and expertise! It was really inspiring watching how tiny tweaks in the objective or relationship created totally different performances in each actor. I'll definitely be signing up for one of your future classes. You're a total rockstar-unicorn."
-Kelsie Hall
For this virtual intensive, Brette will select Commercial Copy for you to prepare.
Assignments will be emailed 1-3 day in advance.
Please update your headshot and fill out the MY INFO section of your AC account upon registration.

Arrive at least 10 MINUTES before your event is slated to start. Your host will give important information about the event at this time.

Instructions and the ZOOM link for access to this online event will be emailed to you in advance. If you have not received the link by 12pm (EST) the day-of the event, please reach out to registration@actorsconnection.com at least one hour PRIOR to the start of class.
**Actors Connection classes and programming are for ADULTS (18+). With permission, some teens (14+) are allowed to take adult programming. To inquire about getting permission, please send an email to: info@actorsconnection.com**
**No recording of any kind is permitted by participants during class.**
**Please keep in mind that all programs at Actors Connection are for educational and professional development purposes. Participating in any class or event is not a promise of employment.**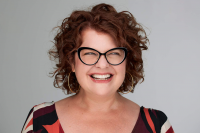 Brette Goldstein
Brette has cast five television series (USA, LMN, Lifetime, History Channel, Investigation Discovery), over 50 independent films, 300 commercials, 100 plays, seven pilot presentations (including "Odd Mom Out" for Bravo) and various new media projects, and was the resident casting director at Washington, DC's Folger Elizabethan Theatre for ten seasons.

Films Brette has cast have won awards and been official selections at most of the major film festivals, including Sundance, Tribeca and Cannes. Brette is the former Co-Producing Director of Washington Jewish Theatre, Production Manager at Washington Shakespeare Co., and Associate Producer of the Washington Theatre Festival.

She is currently working on three projects (one series and two indie films) in development and casting around four commercials a month.
Testimonials

Brette Goldstein's workshop was a tremendous experience. She takes all her industry, casting and acting knowledge and and generously presents it to her class in an energetic, caring, smart, funny, and thoughtful way that is uniquely Brette. Her honest critique is given with such love, support, and guidance that you have no choice but to walk away a better on-camera actor no matter where you started. Oh, yes, and she is LOL funny, too!
Catherine Ryan

Brette's fantastic at typing actors and helping them to key into who they are and how they are perceived. I loved that I got full scripts not just scenes, so I really felt that it was more like the actual audition process. She's also excellent at coaching and fine tuning your scene to perfect the audition. Her down to earth, no-nonsense description of the indie film business was immensely helpful and I would recommend this class to anyone who is interested in indies!
Kristen Riley

I just wanted to thank you for your class. I learned SOOOOO much. I am very green when it comes to film and I'm glad I was able to see myself on camera and I picked up so much watching you direct others and having you direct me. Also, I want to thank you for being so human and open with your thoughts on the business. I've recommended you to all my friends.
Salvador Chevez

I can't tell you enough how much I've enjoyed your classes. The feedback and adjustments that you've given, not only to me but to everyone, are sooooo insightful. You have helped me to get to another level.... thank you! My wife who has seen or read most of my scenes from your classes as well as past classes that I've taken at AC said 'SHE GETS YOU!.' She knows the scenes that you have given me are the kinds of scenes and characters that I want to play. So, thank you for 'GETTING ME!'
Ted Oyama

I think your class ROCKS and I am so glad I took it. You have such a positive way of saying things and you are so good at talking to actors. You never belittle, only encourage. Believe me, that is rare. Extremely. Thank you.
Larry Daggett

Brette is a breath of fresh air. She is a force of nature and full of the most valuable and straight up advice about the business. She knows character and helps you to shine and considers your character analysis.
Jana Stella Sintschnig

Brette is unflinchingly honest in her feedback while maintaining a safe and fun atmosphere.
Synnove Eriksen

Brette is amazing at getting to know you as a person and casting you. She sees your potential and range then challenges you. She is honest and blunt about the casting world and let's you in on great secrets to succeed in your career.
Christophe Morabito

Mrs. Goldstein workshop was the first class that I've taken at Actors Connection. I'm very please with the training. Her advice is golden. She gives you tools that's they don't teach in college. This is definitely the class to take if you need improve help.
Darlene Dues

Loved Brette's class - she's really great, intelligent, funny, has great insights into the business that she shares!
Kenan Wei
Brette Goldstein bluntly tells you how it is. She lets you know how this business works and what's expected of you. I learned some great audition tips. She is awesome! I love her honesty and sense of humor.
Nicole Dos Santos

Brette is truly an actor's advocate. I learned so much about auditioning with improv - the traps we can fall in and also how to prepare. She gave us tremendous insight about both the indie film and network TV casting process.
Mark Andrew Garner

I would absolutely recommend Brette's class and already have to all my friends. She's freaking hilarious. She somehow balances being tactful while being honest and funny! I really feel she's a great teacher and her insight was phenomenal. Thank you so much!
Zulla Berhe
Meets
| | |
| --- | --- |
| Tuesday, July 6, 2021 | 2:00 pm |
The following disclaimer is provided specifically at the request of and in accordance with SAG/AFTRA: Seminars or classes are for educational purposes only and will not secure or provide opportunity for employment in the field or representation by an agent or casting director.