New! Become Your Own Publicist - 2 Day Online Business Seminar led by Award-winning Sweat Equity Publicity founder Steven Shehori
Wednesday, June 23, 2021, 7pm ET / 4pm PT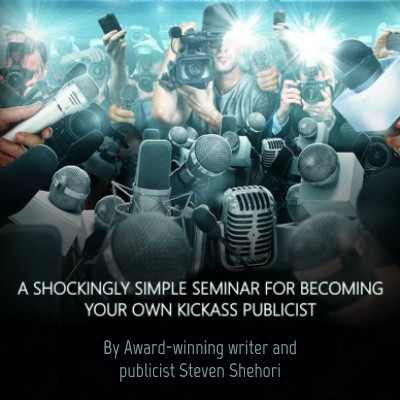 Wednesday, June 23 and Thursday, June 24 at 7pm ET /4pm PT
Award-winning Sweat Equity Publicity founder Steven Shehori (the longtime publicist for Second City Toronto) is here to prove nobody can sell the idea of your creation better than you.

Whether you're a household name or not, if you're an actor, musician, comedian, entrepreneur, or small business owner, the Become Your Own Publicist 2 day online business seminar lays out in clear, straightforward terms how you can garner the kind of media attention you assumed only went to celebrities and industry insiders. This includes coverage from newspapers and magazines, television and radio, plus blogs and podcasts—at zero cost.
Become Your Own Publicist is an insightful and humorous seminar that teaches shockingly simple—yet shockingly effective—ways to engage the media without having to spend hundreds to thousands of dollars on a publicity company. By the end of the seminar, you will have all the tools needed to persuasively and 100% correctly reach out to the media and take your career or project to the next level.
:
To create and send press releases more compelling and memorable than 95% of what's out there
To use free – and effective – online press release platforms like MailChimp and Sendinblue
To make your 'thing' (a.k.a. your show/event/business/career) appear far more attractive to newspapers, radio, TV, podcasts, and web outlets
To establish solid long-term relationships with the media, while avoiding the common mistakes that will immediately put you in the doghouse
To be effectively media trained for interviews
The difference between social media and traditional media coverage, and why the latter is so vital
To make connections to successful industry people by offering them your publicity services in exchange for assistance
To successfully contact businesses to generate funding for your upcoming projects
:
A freshly updated media list (a several hundred-dollar value), which includes the names, job titles, and email address of thousands of media contacts across North America
A 15-point guide to the perfect press release
Numerous sample press releases and digital templates
A compelling sponsorship letter template to generate funding for your 'thing'
Please note this class meets:
Wednesday, June 23 and Thursday, June 24 at 7pm ET /4pm PT

TESTIMONIALS
"Shehori's indefatigableness and ultimate optimism should both inspire and allow countless innovators and industry professionals to feel like somebody gets it."
Kenny Herzog – Rolling Stone, Vulture
"The Shehoris have the business and art of comedy in their blood. They are devoted advocates of young aspiring comedians, writers and actors, and they have the innate ability to understand what it takes to promote, produce and develop a career in the entertainment biz. They have done an extraordinary job publicizing the Second City and the 8-year run of the Tim Sims Theater."
Andrew Alexander – Proprietor & Executive Producer of The Second City
"In my 25 year career in the media, I received thousands of pitches, via email, phone, video and other methods too bizarre to relate. But I knew when I saw the name 'Shehori' attached to one, that I could count on certain things being guaranteed. It would be interesting, it would be witty, it would be worth my time and it would be positioned in a way that managed to be simultaneously persuasive yet unintrusive. The Shehori Brothers are highly respected in the industry as publicists & writers/producers of live theater and television. And in addition to working with established artists, they take a lot of time to help up-and-comers with their careers. Besides being talented, they're generous as well, which I find a rare combination in this business."
Richard Ouzounian – Writer/Director, Theater Critic: Variety and The Toronto Star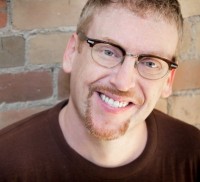 Steven Shehori
Since 2002, multiple award-winning writer, entertainment journalist, and producer Steven Shehori has served as a publicist for actors, comedians, musicians, feature films, TV & theater productions, businesses, charities, and live events across the U.S. and Canada.
Past and present clients include The Second City Toronto (7 years as their official publicist), The Live SCTV Reunion (set to be a feature-length documentary directed by Martin Scorcese), Paula Poundstone, Macaulay Culkin's Bunny Ears podcast and comedy site, Dark Horse Comics, Devil's Due Comics, 30 Rock's Judah Friedlander, Evil Dead: The Musical, The 2018 Burbank Comedy Festival, The 2018, 2019, and 2020 Toronto Screenwriting Conference, The Red Cross Tsunami Relief Fund, and several WWE Hall of Famers.
Meets
| | |
| --- | --- |
| Wednesday, June 23, 2021 | 7:00 pm |
| Thursday, June 24, 2021 | 7:00 pm |
The following disclaimer is provided specifically at the request of and in accordance with SAG/AFTRA: Seminars or classes are for educational purposes only and will not secure or provide opportunity for employment in the field or representation by an agent or casting director.