New! TV HOSTING / MEDIA TRAINING - 3 Week Online Class with Leila Sbitani, TV Host Coach and Top Hosting Agent Mark Turner, VP, A3 Artists Agency
Tuesday, May 11, 2021, 7pm ET / 4pm PT
This event is in the past.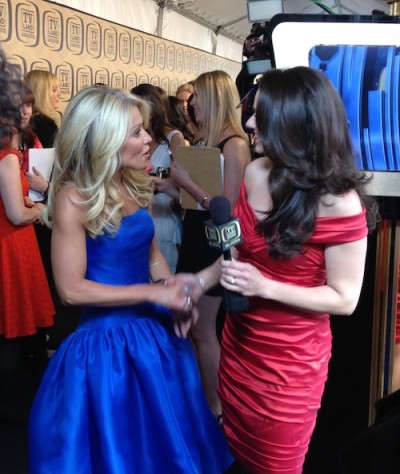 In our new three week TV Hosting Class, you'll work with Leila and Mark to learn the important skills you need to be a successful on-camera personality.
Truly unique, they've designed their class to help you discover and build your brand. They'll also help you to develop your on-camera personality while building confidence to connect with your audience.

:
Week 1 - Discovering your brand / Interview with an agent / How to pitch yourself
Week 2 - Working with scripts / audition technique / video bio
Week 3 - Interviewing techniques / Panel talk show banter / working with co-hosts / How to pitch a TV show
Whether you are a beginner looking to break in, or an established on-air expert looking to reinvent yourself, this class is designed for you!

This class is for adults and teens (13+).

Please update your headshot and resume as needed on your online profile upon registration.
Please update your headshot and fill out the MY INFO section of your AC account upon registration.

Arrive at least 10 MINUTES before your event is slated to start. Your host will give important information about the event at this time.

Instructions and the ZOOM link for access to this online event will be emailed to you in advance. If you have not received the link by 12pm (EST) the day-of the event, please reach out to registration@actorsconnection.com at least one hour PRIOR to the start of class.
**Actors Connection classes and programming are for ADULTS (18+). With permission, some teens (14+) are allowed to take adult programming. To inquire about getting permission, please send an email to: info@actorsconnection.com**
**No recording of any kind is permitted by participants during class.**
**Please keep in mind that all programs at Actors Connection are for educational and professional development purposes. Participating in any class or event is not a promise of employment.**

Testimonials:

"It doesn't matter if you are a rookie or a seasoned vet... I highly recommended this class for anyone who is looking to take their broadcast game to the next level!! Leila and Mark are consummate pros who have a wealth of knowledge about the industry. They really help peel back the curtains of the industry. Plus, they are straight shooters. They will give you imperative feedback that you can put into action right away! My class was an exceptionally talented group of people from all types of broadcast specialties - months later I find myself sharing anecdotes from the course. Be prepared to leave inspired and extra motivated to land your next job!"
Jennifer X. Williams,
Sports Reporter,
FOX 5
"This is a hands-on, voice-on class that is 100% practical, whether you're looking to be a host or a guest. It's not only seriously helpful, it's a really fun day. I usually manage to be the oldest person in the class, but that's never been a barrier: Leila and Mark set the bar for accepting every student as we come. They respect the work students have done to date -- I've taken classes where the instructors want you to toss what you came with and start doing everything their way. Mark and Leila want you to build on what you brought with you to become more skilled, more confident, and more bookable. Since taking these classes the first time, I've landed my own weekly radio show and signed with a commercial agent. My on-camera comfort level grows every time I invest a Saturday with these two. Do this. You'll be happy."
Victoria Moran,
Host Main Street Vegan,
"Peta's Sexiest Vegan Over 50"
"The class is exceptional, packed with information and practical hands-on experiences, and Mark and Leila impart real constructive feedback and techniques to everyone individually. The guest speaker was an industry insider and also had great information. I would highly recommend this class for anyone wanting to become more comfortable on camera, whether for a living or just occasional TV/online media time. Super super super class!"
Jason Jones,
President,
Mondo

"Sbitani & Turner. These two are rock stars in the industry. They set a really fun and chill vibe right off the bat. They are SUPER passionate about what they both do. Leila understands what casting is looking for and how to bring your "true" self out. Mark Turner is terrific, besides being the VP of a top talent agency for over 20 years, he has a feel for "who" you are. He is pretty spot on. He is laid back and will give you great feedback and point you in the right direction. I actually worked with him after taking this workshop. If you're looking to get into the hosting world, you definitely won't be disappointed after grabbing a session with these two. You will learn a ton and have a great time doing so. Have fun! Be you."
Denny Testa,
Entertainer / Host


"This was an Awesome workshop!!! Mark and Leila were great. The workshop really helped me improve my presence in front of the camera and increase my confidence...Thank You!!!"

Scott Schmaren,
Hypnotist, Speaker, Coach and Author

"No matter your level of experience, there is something for everyone to learn here. Strong fundamentals are constructed and honed in a positive atmosphere. The difference between just good and great is attention to detail. Leila and Mark show you to tap yours in any media setting."

Chef Dr. Mike,
Cardiologist & Professional Chef


"This workshop was truly informative. I have worked with a lot of hosting coaches in the past, but this workshop is concise, clear and best of all centered around how to get that job or land a development deal. I really appreciate the no bones about it approach."

Emerson Unger,
AOL Host / TV Personality

"I highly recommend this workshop for anyone interested in being a TV host and/or on-air personality. Leila and Mark make a great media training team! It was very helpful getting tips and feedback from two people on both spectrums of the business, a host and an agent. I learned how to make a script my own, stay true to my brand, interact with other co-hosts, and connect with the viewer. I left the workshop feeling confident, motivated, and knowledgable of the tools necessary to become an on-air expert."

Ebonny Fowler,
Fitness Expert, Fun With Fit

"I loved the workshop! The chance to get friendly, constructive feedback and advice from these real-deal industry leaders was unbelievable. It was a great way to uncover specific ways to make the work I want to do so much better. I'm still pinching myself."

Kyle Collins,
Host/Producer/Writer

"Mark and Leila make a great team! They do have the experience and a legitimate interest in bringing out the star in you with the confidence you will need."

Andreina,
TV Host and Correspondent, El Show de Analeh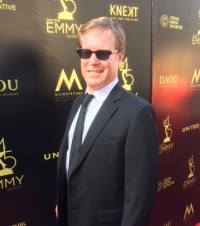 Mark Turner
Mark Turner, Vice President, Non Fiction, Digital and Branded Content Division, A3 Artists Agency (formerly Abrams Artists). Upon graduation from Connecticut College in 1993, Mark started working as an assistant to the head of the commercial dept at a major talent agency, in NY. After 2.5 years, he was promoted to agent; and started up the Host/Broadcast Division. Over the last 2 decades, the department, now titled, the Alternative & Digital Division, has morphed into a one stop shop for all things under the non fiction umbrella. Mark has represented top on air hosts, experts, personalities, producers, and digital influencers, in all aspects of unscripted TV and digital. He's worked with, and placed talent, and sold shows, with every major production company, cable channel, broadcast network, syndicator, and digital platform, across the country. In 2014, Mark was elevated to a Vice President with the agency.
Meets
| | |
| --- | --- |
| Tuesday, May 11, 2021 | 7:00 pm |
| Tuesday, May 18, 2021 | 7:00 pm |
| Tuesday, May 25, 2021 | 7:00 pm |
The following disclaimer is provided specifically at the request of and in accordance with SAG/AFTRA: Seminars or classes are for educational purposes only and will not secure or provide opportunity for employment in the field or representation by an agent or casting director.