I HATE MONOLOGUES 4-Week Monologue Class with Brian O'Neil, Acting Teacher/Coach/Showbusiness Specialist and Author
Saturday, January 4, 2020, 12:00pm
This event is in the past.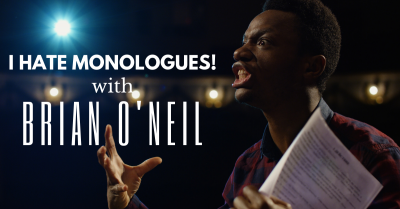 Are your monologues getting you results? Why are you doing a particular monologue and what result is it intended to produce?
In this 4 week class, you'll be given and intensely coached on TWO new monologues selected especially for you by Brian.
You'll also learn: who will be casting what on stage in New York up to two years in advance; how to target writers and directors directly; PLUS what you need to know about photos, resumes and other tools of the trade. Participants will learn how to approach their careers in a new way-and create quality opportunities for themselves.
Brian also encourages members of the class to bring in monologues that are of interest to see if they might be a good fit.
This class is limited to 10 actors.
Always bring a hardcopy of your headshot/resume to class for feedback purposes.
Please update your headshot and resume as needed on your online account upon registration.
Over 2,000 actors have found representation and work after being coached by Brian.
For the first class, please prepare a Contemporary Monologue 2 minutes or less in length-it doesn't need to be memorized. In addition, upload your headshot and create a resume in your online account upon registration.
Brian O'Neil is the author of "Acting as a Business" and is considered one of the industry's gurus when it comes to both monologues and marketing. Brian helped launch the careers of hundreds of actors including Meg Ryan and Matthew Broderick and has been teaching his ever popular monologue class for over two decades EVERYWHERE from universities including private acting studios and has coached thousands of actors in choosing monologues that fit the roles you are right for! Brian is an expert when it comes to finding material and his unique insight into what theaters and casting directors look for when hearing monologues will bring you one step closer to that coveted job. He has lectured at Yale and is presently a Special Faculty member at Juilliard and currently teaches a monologue classes at NYU/Tisch School of the Arts.
Please bring a monologue of your choice to the first class. It need not be memorized.
This is a real opportunity to work with a master in a safe, supportive working environment!!
TESTIMONIALS:
"This was a fantastic class! I'm so happy to have been in Brian's class. I'm ready to audition with my new monologues." -Nancy Walsh
"Passion, articulate and warm." -Amanda Greer
"Brian is terrific!" -Greg Rusin
"Brian is very supportive and encouraging and brings a wealth of knowledge to his work analysis." -Paul Caliendo
"As someone who took a break from performing and just getting back into it, he understands how to pull the best out of you while making you feel totally comfortable." -Carlos Ponton
"Brian is fantastic. He was able to hear us read once and pinpoint monologues that fit all of our personalities and types perfectly. I had not been comfortable with my previous monologues and I'm leaving feeling ready to take on auditions again. This class was a godsend." -Meg Halcovage
"I really enjoyed Brian's monologue class. Not only did I get TWO really good monologues out of this class, but I also learned how to choose the right monologue for particular audition purposes. I would highly recommend it to anyone!" -Porter Pickard
"Brian has the ability to make the right monologue open doors for actors at all levels. While many can be intimidated by the daunting task of fine-tuning a monologue that's right for them, Brian's monologue workshop makes it easy. His one-on-one scene coaching has been vitally important to me, and now I see that his monologue coaching is priceless. I highly recommend it!" -Stephen Gregory, Dr. Kyle Beresford, Law & Order: SVU
"I wanted to say "thank you" again for a wonderful 6 weeks. It was the most useful, informative and practical workshop I've ever taken; I feel much less intimidated by both performing and finding monologues. In addition to being inspired by the monologues you recommended for me, I was intrigued by monologues you gave to other people and have been thinking about past scenes I've done in acting class and realizing that there are monologues I could mine from them. I am also hugely grateful that you included all the discussions about the business side of this profession. I appreciate it because first and foremost it puts me in a greater position of control with regards to my career, and secondly because your information streamlines and prioritizes all the various components of the acting business. I am much clearer about the most efficient places to spend my time and energy and am looking forward to implementing your advice in the months ahead." -Melissa Macleod Herion
Brian O'Neil
Meets
| | |
| --- | --- |
| Saturday, January 4, 2020 | 12:00 pm |
| Saturday, January 11, 2020 | 12:00 pm |
| Saturday, January 18, 2020 | 12:00 pm |
| Saturday, January 25, 2020 | 12:00 pm |
The following disclaimer is provided specifically at the request of and in accordance with SAG/AFTRA: Seminars or classes are for educational purposes only and will not secure or provide opportunity for employment in the field or representation by an agent or casting director.