VOICE OVER MASTERCLASS: 6 Week Advanced V/O Class with Rebecca Yarsin, CD House Casting, Ashley Marshall, CD Beth Melsky Casting, and Lisa Fischoff, CD Broadcasters
Wednesday, June 12, 2019, 7:00pm
This event is in the past.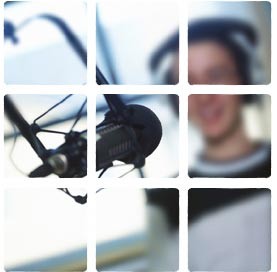 For Advanced V/O Talent Only!
Our Voice Over Masterclass will give you all the tools you need to connect and make firm committed choices to BOOK more V/O jobs! You'll work on a variety of V/O commercial copy that each guest will be bringing in as well as some specific areas that each guest will tailor for their classes.
Our scheduled V/O guests for the 6 weeks include:
Rebecca Yarsin, Casting Director, House Casting - Week 1 and 2
Ashley Marshall, Casting Director, Beth Melsky Casting - Week 3 and 4 
Lisa Fischoff, Casting Director, Broadcasters - Week 5 and 6
Not for the beginner, this class is for the experienced V/O actor who is auditioning but not booking, or even successful actors who simply want to improve their booking rate.
Limited to 12 Experienced Voice Over Actors
Rebecca casts national and regional commercials (both on-camera and V/O) and industrials as well as hosts for TV entertainment programs. Formerly a theatrical CD and stage manager for Broadway and Off Broadway, she really has an eye for talent and loves trained actors! Some favorite credits include: Bart (Short Film; Sundance), The Collective (Web Series), #thatsharassment (David Schwimmer), National and Regional Commercials and Voice Overs include: Apple, Time Warner, At&t, T-Mobile, Bank of America, TD Bank, Chase, Verizon, Lay's, Old Navy, Gillette, Macy's, Ketel One, Bacardi, McDonalds, Dunkin Donuts, Nike, Dr Scholls, Kit Kat, Reese's, Accuvue, Dos Equis, PS3, Call Of Duty, Grand Theft Auto, Coke, Beats by Dre, Heineken, Hilton, NY Lottery, Planters, Bridgestone, Gap, Subway, Dr Pepper, Breyers, Lowe's, Lincoln, Samsung, Humira, Crestor, etc. Music Videos: Danny Brown's "Grown Up", Lorde, Florence and the Machine, Madonna's Bitch I'm Madonna, Taylor Swift's "Blank Space". Rebecca has also worked with directors Derek Cianfrance, David Gordon Green, Matt Aselton, James Mangold, Mike Maguire, Neal Brennan, Ken Kwapis. She has directed multiple shorts, a web series, as well as numerous plays in and around NYC. She has Stage Managed even more, ranging from Festivals to Broadway.
Ashley Marshall casts both national and regional commercials (on-camera and voice-overs).Ashley has worked at Beth Melsky Casting for over a decade.  In that time they have helped cast several VO campaigns.  Recent projects include:  Bud Light, Peloton, Heineken, Walmart, Delta, and TD Ameritrade, among others.  
Lisa Fischoff is the co-founder of Broadcasters, one of the busiest commercial casting offices (voice-over, on-camera and hosting) in NYC. After working at Liz Lewis Casting Partners for many years, Lisa left to start Broadcasters in 2005. Recent clients include: Nationwide, Wendy's, JP Morgan, Pepsi, Travelocity, Reebok, Bud, and Bud Light to name a few.
TESTIMONIALS:
"As always, I'm a huge fan of Actors Connection and this class was pretty awesome! Total professionalism on all parts with each guest." -Christian Rosselli
Meets
| | |
| --- | --- |
| Wednesday, June 12, 2019 | 7:00 pm |
| Wednesday, June 19, 2019 | 7:00 pm |
| Wednesday, June 26, 2019 | 7:00 pm |
| Wednesday, July 3, 2019 | 7:00 pm |
| Wednesday, July 10, 2019 | 7:00 pm |
| Wednesday, July 17, 2019 | 7:00 pm |
The following disclaimer is provided specifically at the request of and in accordance with SAG/AFTRA: Seminars or classes are for educational purposes only and will not secure or provide opportunity for employment in the field or representation by an agent or casting director.