AC EXCLUSIVE! IMPROV FOR HOSTING INTENSIVE with Patricia Stark, TV Host/Media Trainer, Patricia Stark Communications and Adam Sietz, Award Winning Creative Development Consultant - BACK BY DEMAND!
Monday, October 22, 2018, 6pm ET / 3pm PT
This event is in the past.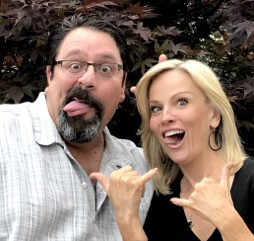 Improv skills are at the top of the list when Producers and Casting Directors are looking for Hosts who can think on their feet, get out of their own way, and be in the moment with authenticity, ready to handle anything that's thrown at them with Calmfidence® and a sense of humor and quick wit. Learn a special skill that is invaluable for those interested in TV hosting, anchoring and filmed industrials.
One of New York's top Media Trainers and TV Hosting Coaches Patricia Stark teams up with Award Winning Improv Champion, Actor and Broadway Veteran Adam Sietz to offer this first time 3 hour Improv Intensive!
These skills can also be applied to public speaking and overall performance and powerful presence for actors & professionals in any industry. Lively Discussion and fun exercises will fill the evening with skills, take aways, tips and tricks.
They'll cover: -Let go! Just be! -Living Life Like Nobody is Watching -Being Present: Focused on NOW – Allows Optimum Information Download -Increased Mental Agility – Be ready for anything - Dealing with Adversity -Calmfidence® in Dealing with the Unexpected - Peak Performance, Even Under Pressure -Stress and Anxiety Triggers Disappear. -EffectiveSpontaneity – Thinking on your Feet by Not Thinking! – Trusting your gut instincts. -Co Hosting - Increased Cooperation = Better Teamwork = Better Outcomes -Comfort and Willingness to Risk – Set Your Specific Risk Tolerance Level. -Humor Formulas Help Find the Funny - Non-linear thinking free association. -Increase your "Likeability" – Truth and Authenticity Win! -Break Down the Barriers to Your Feelings and Emotions. Turn Them Into Tools. -Become a Master Brain-stormer -Know You and Perfect Just the Way You Are - If You Weren't You'd be Something Else !
About the instructors: Adam is a 3 time Broadway veteran, an award winning Film, Television, Radio, Video Game, Commercial, and Voice Artist. He is a successful Stand-up Comedian, and 2x All-Star & National Champion Improviser. Adam has been hosting and emceeing for years. From many local and global awards, corporate and charity events, to hosting on-camera and on-stage. He's hosted and co-hosted TV Shows for Spike TV, Comedy Central, and TruTV, Stand Up and Sketch Comedy shows at Caroline's, Friars Club, Catch a Rising Star, Stand-Up NY, Comic Strip, etc. Adam works with Forum Leadership Groups, CEO's, Teachers, Attorneys, Politicians, Sports teams and individuals. He is a humor, presence, spontaneity coach and creative development consultant.
Patricia helps broadcasters, celebrities, athletes, experts, executives, Authors, and everyday people find their Calmfidence® in TV Hosting, public speaking, interviews, performing on stage, and in front of the camera. A former National/International News Anchor and Health/Medical News Host, Host/Interviewer for Money FAQ's on CNBC, Paycheck Showdown on The Learning Channel, Host of Food Bites on the Food Network, Host of '"The Movie Loft", Host of "Neighborhood Journal" and"Meet the Leaders" for Cablevision, and Host of "Education Showcase" sponsored by Discovery Communications and CNBC. Patricia teaches tangible strategies to build and earn Calmfidence® through powerful communication skills, body language, voice, mastering self talk, personal and professional image tips, and secret stress and anxiety relievers used by the pros. Clients include: Smithsonian Institute/NASA TV, Vanity Fair, Glamour Magazine, Conde Nast, BET, CNBC, CBS, OWN, Discovery/TLC, Viacom, NASCAR, Martha Stewart Omnimedia, E! News, Bon Appetite, USGA, KPMG, Miss America Organization, Fuse, Pop Sugar, and TheatreMania.
"Just gotta tell you - this class was DYNAMITE!!! The two of them together were smashing!!!" -Jami Simon
Patricia Stark
Meets
| | |
| --- | --- |
| Monday, October 22, 2018 | 6:00 pm |
The following disclaimer is provided specifically at the request of and in accordance with SAG/AFTRA: Seminars or classes are for educational purposes only and will not secure or provide opportunity for employment in the field or representation by an agent or casting director.