New! All Day TV HOSTING / MEDIA TRAINING INTENSIVE with Leila Sbitani, TV Host Coach and Mark Turner, Vice President, Non Fiction, Digital and Branded Content Division, Abrams Artists Agency - SOLD OUT!
Saturday, October 13, 2018, 10:00am
This event is in the past.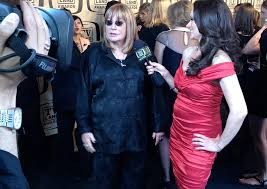 5pm. In our new all-day TV Hosting Intensive, you'll work with Leila and Mark to learn the important skills you need to be a successful on-camera personality.
Truly unique, they've designed their intensive to help you discover and build your brand. They'll also help you to develop your on-camera personality while building confidence to connect with your audience.
You'll also learn: -What Agents, Casting Directors, Online Outlets, Networks, and Production Companies Look For -How to Pitch a TV Show -The Importance of Social Media -Auditioning Techniques -Interview Techniques -Working with Co-Hosts -Panel Show Banter -Cold Reading Copy -Discovering Your Brand -Building Confidence -Connecting with the Audience and more!
Whether you are a beginner looking to break in, or an established on-air expert looking to reinvent yourself, this intensive is designed for you!
Limited to 12 students
Special Guest Speaker: Quinn Fegan, Lead Talent Executive/Casting Director at ITV will also drop by to share her perspective and insight into the world of TV Hosting.
Quinn Fegan is a Director of Casting and Talent at ITV America, one of the largest unscripted production companies in the U.S. She's responsible for overseeing series casting as well as identifying fresh talent for development concepts for both ITV and a variety of cable networks and streaming platforms. For the past decade, she's spearheaded casting at networks such as VICELAND, Bravo, Animal Planet, MTV and Netflix, to name a few. With a focus on diverse content, she's cast competition series, host roles, food programming, animal docuseries and has even imbedded in an off-grid community in the high desert of Oregon. Most recently she's navigated the casting for Netflix's Queer Eye and traveled to Mongolia for the casting of History Channel's Alone. Prior to joining ITV America, Quinn worked for two years as a media consultant in Bangalore, India.
About Leila and Mark:
Mark Turner, Vice President, Non Fiction, Digital and Branded Content Division, Abrams Artists Agency Upon graduation from Connecticut College in 1993, Mark started working as an assistant to the head of the commercial dept at a major talent agency, in NY. After 2.5 years, he was promoted to agent; and started up the Host/Broadcast Division. Over the last 2 decades, the department, now titled, the Alternative & Digital Division, has morphed into a one stop shop for all things under the non fiction umbrella. Mark has represented top on air hosts, experts, personalities, producers, and digital influencers, in all aspects of unscripted TV and digital. He's worked with, and placed talent, and sold shows, with every major production company, cable channel, broadcast network, syndicator, and digital platform, across the country. In 2014, Mark was elevated to a Vice President with the agency.
Leila Sbitani, TV Host/Media Coach Leila has hosted a wide variety of TV Shows that have taken her all over the world and enabled her to work with numerous celebrities. Including, most recently, Jennifer Lawrence, TJ Miller, Sterling K. Brown and Chris Hemsworth. Working on Entertainment Tonight, E!, Style, WE, Metro TV, Oxgen, Nick@Nite, and TV Land many more. She also has extensive experience as an actress in film, theater, commercials, voice-overs and industrials. Leila has been working as a media coach and teacher for the over 15 years. Teaching master classes at Colleges, Universities, High schools, and workshops in New York City. As well as working with production companies, networks and independently taking on clients for private coaching. Leila has coached talent that have appeared on various networks including VHI, BET, HGTV, Fuse, NBC, CBS, FX, and Universal Kids.
Check out Leila's 2018 Hosting Demo:
Testimonials:
"This workshop was truly informative. I have worked with a lot of hosting coaches in the past, but this workshop is concise, clear and best of all centered around how to get that job or land a development deal. I really appreciate the no bones about it approach." -Emerson Unger, AOL Host
"This class was truly amazing! I learned so much about pitching myself, making a script my own and interviewing others, whether one-on-one or in a panel discussion. It was especially helpful to attend this class because we had the feedback and guidance of two experts - a TV host and an agent. I would highly recommend this class to anyone considering TV hosting, whether professionally or just for fun!" -Nicole Foster, Lawyer/Legal Expert
"Mark and Leila make a great team! They do have the experience and a legitimate interest in bringing out the star in you with the confidence you will need." -Andreina, TV Host and Correspondent, El Show de Analeh
"No matter your level of experience, there is something for everyone to learn here. Strong fundamentals are constructed and honed in a positive atmosphere. The difference between just good and great is attention to detail. Leila and Mark show you to tap yours in any media setting." -Chef Dr. Mike, Cardiologist/Professional Chef
I highly recommend this workshop for anyone interested in being a TV host and/or on-air personality. Leila and Mark make a great media training team! It was very helpful getting tips and feedback from two people on both spectrums of the business, a host and an agent. I learned how to make a script my own, stay true to my brand, interact with other co-hosts, and connect with the viewer. I left the workshop feeling confident, motivated, and knowledgable of the tools necessary to become an on-air expert." -Ebonny Fowler, Fitness Expert, Fun With Fit
"I loved the seminar! The chance to get friendly, constructive feedback and advice from these real-deal industry leaders was unbelievable. It was a great way to uncover specific ways to make the work I want to do so much better. I'm still pinching myself." -Kyle Collins, Host/Producer/Writer
Meets
| | |
| --- | --- |
| Saturday, October 13, 2018 | 10:00 am |
The following disclaimer is provided specifically at the request of and in accordance with SAG/AFTRA: Seminars or classes are for educational purposes only and will not secure or provide opportunity for employment in the field or representation by an agent or casting director.