AC EXCLUSIVE! 5 Week INTRO to On-Air HOSTING & TV ANCHOR Class with Patricia Stark - Broadcast Talent Agent / Talent Coach & Trainer - SOLD OUT!
Tuesday, September 11, 2018, 6:00pm
This event is in the past.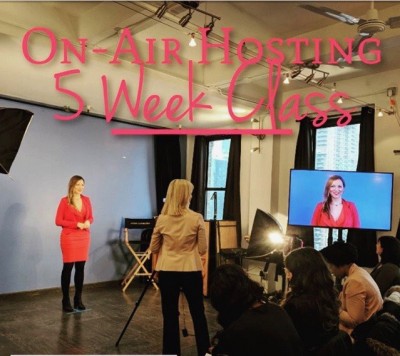 Cable television, Internet and Podcasts have opened tons of opportunities for actors. Could you host your own show? Work in the news?
You'll work with authentic Host & Anchor scripts and get a basic overview of the industry including situations and environments you will encounter. Traditional and cutting edge Host skills will be the focus. Patricia will cover interview techniques as well as drills for on-camera improvs and Teleprompter.
You'll learn: -How to read a Teleprompter without sounding like you're reading -How to "own" the words -Conversational vs. Presentational -Basic Technical Aspects -Facial Expressions -Cadence & Timing -Dealing with long format scripts, live broadcast news, and cold reads -Finding "The Zone"
This class is full of industry resources, contacts, and tips!
Patricia Stark is a Media Trainer and Public Speaking Coach & CEO of Patricia Stark Communications Inc. Her clients include: OWN The Oprah Winfrey Network, Bill & Giuliana Rancic: "Ready for Love" NBC new series prep, BET's 106 & Park cast re-launch, Fuse TV/ Fuse News Team, Style Network, E! News, VH1, MTV, Logo/Viacom, Discovery /TLC Talent Development, Martha Stewart Omnimedia and hundreds of on-air guest experts with appearances on CNN, Fox, The Today Show, CBS This Morning, CNBC, Bloomberg, Nate Berkus, HGTV, Tyra Banks, A&E, PBS, & WebMD.
Patricia works closely with Talent Development Execs, Casting Execs, Talent Reps, PR, Publicists & Production companies to prepare on-air talent & on-air experts. Recent experience includes: Hired by Little Acorn/Nigel Lythgoe Productions to prep Alexa Ray Joel & Ashanti for on-camera Host auditions for the E! show "Opening Act", coached Author & Motivational Speaker Wes Moore to take over as new host of "Beyond Belief" on OWN, coached Mark Hoppus in advanced Teleprompter skills for "Hoppus on Music" series on Fuse, and regularly helps Producers transition to On-Air Talent for Fuse & Viacom/ Logo. Contracted by BET to coach the new hosting team of "106 & Park" over a 3 month period for re-launch of the show-hosting skills, co-host skills, teleprompter, interview skills, body language & point of view. Contracted by Fuse News to weekly train a 7 person news team for Launch of 2013 Fuse Daily News show, special programming and web programing hosting skills, co-host skills, teleprompter, interview skills, body language & point of view.
She's worked with VH1 to coach Mob Wives Karen Gravano for her book launch media tour. Multi-host prep for TLC's live coverage of "The Royal Wedding", worked closely with Clinton Kelly for IFB training, "Say Yes to the Dress" Randy Fenoli & Monty Durham for all on-camera host prep. On-Site coach live Times Square coverage TLC's Royal Wedding. Prepped on-air guest experts for Martha Stewart Omnimedia for multiple Today Show appearances. Coached chefs for "Everyday Food" PBS.
Patricia is a seasoned Television Host & News Anchor with extensive experience as on-air talent for 25 different television shows in her career. She has worked with over 2000 corporations as moderator, trainer & spokesperson for corporate media productions both on-camera and on stage. Patricia serves as a guest expert for media appearances covering communication skills, making great first and lasting impressions, giving "best foot forward" tips for work & life, public speaking, image & confidence strategies.
Space is limited to 12 actors.
*** Scenes will be recorded on-camera. As a courtesy, your video clips will be made available to you within a week. An email notification will be sent when the clips are available to view and download from your Actors Connection account. Please note: from time to time technical issues do occur. As a result video clips are a courtesy, not a guarantee.***
TESTIMONIALS:
"Patricia is the real deal! Thank you!" -Jeanie Ahn
"Patricia is the most inspiring teacher I've encountered in 10 years. PLEASE keep her around!" -Christina Vinsick
"Patricia gives great direction. She is honest and does a good job getting you to know your strengths, so that you're more confident." -Betsy Chacko
"Great energy! Patricia Stark is amazing and encouraging. She makes even the most green host feel as if they can host a primetime award show." -Darryl Simon
"There is so much information and Patricia is amazing at building confidence. I've learned a lot about the industry." -Dana Pierce
"Patricia Stark is a sweetheart and very professional. I would definitely take more of her classes." -Krystle Kalouris
"Patricia was amazing!" -Lara Leonard
"Excellent set up, great instructor!" -Stefan Segadlo
"Pat's hosting class was such a pleasure! She is giving, creative, nurturing and very professional! She has a way of invoking confidence and making you want to push yourself to give more and do the best you can. I'm so grateful for that. It was a comfortable place to work and I learned so much about the business of hosting, auditioning, how to package myself and so many more valuable tips. Thank you Pat, you rock!" -Krista Watterworth, Host of HGTV's Save My Bath
"Throughout my year as Miss New York, I have been introduced to so many incredible opportunities; Actors Connection was definitely one. The Teleprompter Intensive and On-Air Hosting classes I took with Patricia Stark have sparked an interest and began a foundation for me in lifestyle broadcasting. I am so thankful and look forward to many more classes!" -Claire Buffie, Miss New York 2010, Top 12 Finalist at Miss America 2011
"First of all, let me tell you how much I enjoyed your on-air hosting class at Actors Connection. The amount of information, practical advice, on-camera time, and stories from your experiences made for an extremely useful class. I appreciate how you give constructive criticism, without being afraid to tell us what we're doing wrong. You gave me many ideas and resources that will be invaluable!" -Merrie Nell Spence
"It was a pleasure taking your class. Your style of teaching was warm and friendly and full of positive details on the inner workings of the business. My time spent listening to your fresh approach in class has opened up new avenues of opportunity. I now consider you a mentor and you will always be a part of the resume of my life." -Peter Austin Noto
"I just had an audition for HP with a teleprompter. Thanks to AC and Patricia I was well prepared!" -David Sasse
"Patricia was very informative and helpful. She makes you feel very comfortable." -Farrah Cine
Patricia Stark
Meets
| | |
| --- | --- |
| Tuesday, September 11, 2018 | 6:00 pm |
| Tuesday, September 25, 2018 | 6:00 pm |
| Tuesday, October 2, 2018 | 6:00 pm |
| Tuesday, October 9, 2018 | 6:00 pm |
| Tuesday, October 9, 2018 | 8:00 pm |
The following disclaimer is provided specifically at the request of and in accordance with SAG/AFTRA: Seminars or classes are for educational purposes only and will not secure or provide opportunity for employment in the field or representation by an agent or casting director.