ACTOR TO WRITER - with Peter Russell "Create and star in your own dream project."
Monday, March 9, 2020, 1:00pm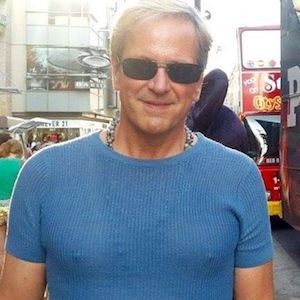 Take control of your creative destiny - write the story you can star in!
"Create the perfect role... by writing it yourself." (Or finding the perfect audition piece.) Take control of your creative destiny - write the story you can star in!
Dreaming of a perfect role?
Who knows better than you do what you can do as an actor?
Actors make very good writers. From Sly Stallone (Rocky, Rambo) to Justin Theroux (Tropic Thunder), Rashida Jones (Celeste & Jesse Forever), Lena Dunham (Girls), Tyler Perry, Ben Affleck, Emma Thompson, Seth Rogan, Julie Delpy – they've all made the move to be both actor and writer.
Why? Because the very things that makes you a good actor can help make you a good writer.
And it will EXPAND the reach of your career. It'll put you in charge of your own destiny.
Peter Russell has guided many successful actors on this same journey - most recently actress TATE HANYOK (The Office, Community, Transparent, Burt Wonderstone) win the Austin Film Festival's 'Best Comedy Script' (Sony Pictures) in November 2018. HAL OZSAN 'What Would Diplo Do?' 'Blacklist' 'The Mentalist' 'Sons of Anarcy'.
Peter teaches film and television story at UCLA (Teacher of the Year) and is a working screenwriter who has sold two television pilots in 2018, a crime procedural and a biographical mini-series. He is also a long-time story doctor in Hollywood whose clients include Imagine, HBO, Participant, Viacom, CBS Television. Peter started as a theater director in New York at The Public Theater "Much Ado About Nothing" Kevin Kline & Blythe Danner, 'Love's Labour's Lost' with Roma Downey, Joe Papp's Public Theater.
Since every actor is already a storyteller, using your body, mind and talent to create a story on stage or on camera, Peter shows you how to use these talents to simply complete your journey as a storyteller, and to help you build a story you can sell.
This workshop seminar will open with the question "what character would you love to play?" or 'what story would fit you best as an actor?
Peter will show how to take a story idea (or your existing script) and turn it into a more cinematic concept. You can come to this seminar with a story idea that Peter will help you turn it into a 'logline' - a one sentence description of your script.
The logline is the fundamental building block of all great cinematic story in Hollywood. You'll learn to use your acting skills in find the 'core wound' at the center of your story's character, and also the five other fundamental tools of creating cinematic story.
Under Peter's guidance, you'll workshop your own story's logline using "The Nine Questions You Ask When Building A Great TV Pilot Or Great Film".
Peter will also teach the structure of the currently popular webisode form of story, using actors turned writers Abbi Jacobson and Ilana Glazer's Broad City.

Come learn how to apply the rules of your selected genre to rapidly outline a great script that you wan subsequently write. Using the latest films and TV shows (Altered Carbon, Sneaky Pete, Girls, Game of Thrones, 3 Billboards Outside Ebbing, Missouri,
And how knows? You might find that you love writing. Many actors do. It let's them take control of the process and not be a passive auditioner of, and for, other people You feel powerful when you are acting your OWN story!
The outcome of this class will be learning the tools to create a cinematic story, and to decide what form you want to use - TV, film, webisode, et cetera. You will leave the seminar with an idea for a movie or TV story. And you'll be inspired to tell your story, and take control of your creative life.
Movies and TV shows used in this class will include a choice of story from:
Call Me By Your Name, La La Land, Three Billboards Outside Ebbing, Missouri, Altered Carbon, Sneaky Pete, Animal Kingdom, Lady Bird, Carol, Game of Thrones, Get Out, The Florida Project, Hell Or High Water, Fargo (TV series) Stranger Things, Westworld, True Detective (Season 1), The Deuce, Better Call Saul and Breaking Bad.

BONUS FEATURES:
This seminar also includes a free subscription to Peter's online class:
"ACTOR TO WRITER - HOW TO CREATE A STORY YOU CAN STAR IN"
A PDF of the course will be emailed to all class participants.
Take charge of your own destiny. Create the stories you want to star in. Let Peter Russell show you how.
ACTOR TO WRITER - Start your journey in this class!
What People Are Saying:
'Peter, I owe you BIG!'
Tate Hanyok, winner, 'Best Comedy Script', Austin Film Festival, November, 2018
'Peter Russell is the absolute best authority on cinematic structure today.
He's the new Robert McKee." Tyler Perry.
'Peter helped me sell my script. I've loved acting but I wanted to make the move to writer. Peter is a teaching genius.'
Hal Ozsan, 'Black List', 'The Mentalist' 'Sons of Anarchy' What Would Diplo Do'

Meets
| | |
| --- | --- |
| Monday, March 9, 2020 | 1:00 pm |
The following disclaimer is provided specifically at the request of and in accordance with SAG/AFTRA: Seminars or classes are for educational purposes only and will not secure or provide opportunity for employment in the field or representation by an agent or casting director.