AC in LA! 3 week FILM/TV DEMO REEL CLASS with Michelle Cutolo, Casting Director + Film ONE "Interrogation" Scene with Wise Owl Media Group!
Saturday, September 21, 2019, 9:30am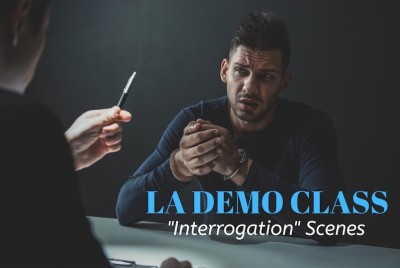 If you're pursuing film and TV, it's imperative that you have either a film and TV demo reel or clips of your work to show talent agents and casting directors on Actors Access, Casting Networks, LA Casting and beyond.
Without an acting demo reel or clips, your competition is getting placed above you, and you're probably not even being looked at by casting directors.
In this 3 week class, you'll spend 2 weeks coaching your scene with a casting director followed by 1 week of filming an "Interrogation" scene on-set with our production partner Wise Owl Media Group to create high-quality footage, build experience on on set and capture an "Interrogation" scene for your specific type.
These scenes are perfect for showcasing acting skills in the style of TV shows like NCIS, Law & Order, Criminal Minds and other procedural dramas.
Your instructor, Casting Director Michelle Cutolo, is constantly busy at a very high profile LA office working on several TV shows, feature films and animated features. She is an advocate of the actor and excited to help you bring your best to the screen.
This class is held at:
Space Station Casting Studios
in "Studio #5"
950 N Cahuenga Blvd.
Los Angeles, CA 90038.
in partnership with
CLASS OVERVIEW
Choosing A Scene: Once you register, approved "Interrogation" sides will be unlocked in your Actors Connection account. Choose and prepare one of the sides that you like best. Print and bring two copies to class, one for you and the second for your reader. (If you want to use a scene of your own, that's fine too, just email us a copy for approval.)
Week 1 (Sept. 21) - Coaching: In the first class, you'll meet your instructor, Casting Director Michelle Cutolo. Michelle will watch your "Interrogation" scene and provide coaching with valuable feedback. You will also spend the first week customizing the scene with Michelle's guidance to make it a special fit for your personality.
Week 2 (Sept. 28) - Dress Rehearsal: For the second class, arrive dressed in the outfit you wish to wear for your shoot, fully prepared and "camera-ready". Michelle will give you an evaluation of your scene with a final coaching so you are ready to report to set the following week.
Week 3 (Oct. 5) - Filming: On the third Saturday following your coaching sessions, you will shoot your scene with Wise Owl Media Group on location using professional sound, lighting and HD camera equipment.
You will be assigned a 30-minute appointment to shoot between 10am and 7pm. You must be available during your designated shoot time. Actors will be emailed shoot times before the second class. (Please arrive "camera-ready." Actors are responsible for taking care of their own hair/makeup and wardrobe/styling.)
What's Next? Within two weeks after your class and filming is complete, you'll receive high-quality, fully-edited and produced, cinematic scene to post on your website, add to your current demo reel or upload directly to your Actors Access profile or other industry sites.
Filming 1 scene + weeks of private coaching would usually cost over $1,000! This class is available for $595. Limited space, so register now!
TESTIMONIALS:
"I am very thankful for the demo reel class. I had no video footage up until now....I have since signed with my 1st manager. Thank you!" -Nikki Dos Santos
"The Demo Reel class was probably one of the most important things I could have ever done for myself. Not only did I get fantastic footage and first rate production value scenes/clips, I am getting lots of positive response from casting directors, agents and managers. HS & resume isn't enough anymore, you have to have a reel. It's a catch 22 because how do you get a reel if you don't get the jobs to put on the reel? Well, take this class and make it happen for yourself. Get it! Do it! Create the career you want!" -Eddie James
"These days, a demo reel is as essential as a headshot. This class is an excellent source for those looking to begin a TV/Film career, but have no footage for a reel. The whole collaborative experience was amazing and educational, and I've already gotten auditions because of my reel. I highly recommend this class!" -Sherry Lorraine
"I really enjoyed the demo class! My website is up and running and feels complete because of my new clips and demo reel and just helped me to start FREELANCING with a personal manager!" -Kenan Wei
"The demo reel class at Actors Connection is the best reel class out there. Its truly worth every penny...Now I have legit material to send out to casting directors and agents. I highly recommend! The demo reel helped me get a manager, which is great, thank you." -Elora Von Rosch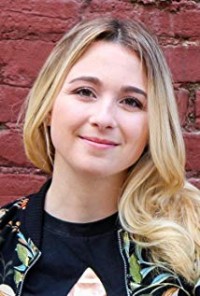 Michelle Cutolo
MICHELLE CUTOLO, Bi-Coastal Casting Director/TV & Film Director
IMDb | Michelle Cutolo is a native New Yorker and award-winning LA/NYC based casting director and tv/film director. In Los Angeles, she is currently working as a Casting Associate at a very high profile office on several TV shows, feature films and animated features. While in New York Michelle has worked with Brette Goldstein Casting. She is also currently developing several independent film projects.

Recent credits include: feature films Crazy Famous (starring OITNB's Catherine Curtin) and Hedgehog (starring Handmaid Tale's Ann Dowd and Madeline Brewer), Lifetime Movie Network's I Love You But I Lied, the NY TV series Donny! on USA Network and a pilot for truTV. Past film and TV projects include: AdFirm, Sharknado 2, But Not for Me, Engram, Reaching Home, Small Miracles, Ten-One, My Bad Trip and Odd Mom Out. Recent commercial credits include: Vicks, Optimum Business and The Sparkle Campaign.

Michelle has a decisive creative approach in the clever, funny and creative worlds with a focus on elevating female-centric comedic ventures. Since 2014, Michelle has been directing short films, television pilots, web series, sketch comedies, commercials, and music videos. Learn more at michellecutolo.com.

Cancellation Policy: Cancellations must be made with 2 weeks advance notice before the program start date for a full Actors Connection credit to be issued as space is limited. Cancellations made less than 2 week before the start date will not be credited. There are no refunds.

Questions about this class? Need help regarding LA programs?
Please email walid@actorsconnection.com.
Actors Connection is in full compliance and BONDED (#14-SUR-140824) with the State of California.
Meets
| | |
| --- | --- |
| Saturday, September 21, 2019 | 9:30 am |
| Saturday, September 28, 2019 | 9:30 am |
| Saturday, October 5, 2019 | 9:30 am Final Class BY APPOINTMENT for Shooting |
The following disclaimer is provided specifically at the request of and in accordance with SAG/AFTRA: Seminars or classes are for educational purposes only and will not secure or provide opportunity for employment in the field or representation by an agent or casting director.