3-Week SPANISH VOICE-OVER CLASS with Jean-Marc Berne, The Hispanic V/O Coach and Marketing Expert
Wednesday, August 21, 2019, 6:30pm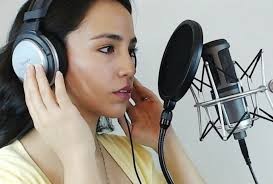 The Spanish Voice Over and media market is growing in leaps and bounds and providing tons of opportunities for both fluent and multi-lingual speakers. If you've been interested in this area, but haven't known how to get started, this is the class for you!
Another first here at Actors Connection, we are thrilled to have Hispanic V/O expert Jean-Marc in to give beginning Spanish Voice actors an overview of the techniques needed to start working as a Spanish Voice Over actor in today's marketplace.
Over this three week course, Jean-Marc will cover basic VO Technique, Spanish warm-up exercises, reading with Neutral Spanish' accent and Spanish commercial copyreading. He'll focus on technique for working in pairs. You'll be paired up and taught the proper technique on how to prepare for auditions/gigs working while working with fellow V/O talent in the same booth. You'll work on long form narration and reading for audiobooks. And in addition, you'll work on commercial copyreading, taking directions and preparing for the audition/gig. Jean-Marc will also discuss the next steps to keep developing your technique and approach to Spanish Voice-Overs.
Limited to 12 actors
Jean-Marc is president of Berne Media Enterprises - a Spanish creative media consulting and production company - and a busy voice talent and Spanish voice over coach.
He is also a Spanish-English audiobook narrator, and the creative consultant for print and radio ads for HUD, the National Fair Housing Alliance, the National Alliance of Public Charter Schools, and the National Crime Prevention Council. His list of commercial work includes Bud Light, McDonald's, Western Union, Timberland, Pollo Loco, McKinsey, Pfizer, VNSNY, Xfinity, NFHA, HUD, National Alliance of Public Charter Schools, Metro Cable and Eclipse Gum to name a few. He's narrated the Spanish audio book "Negocios," from Pulitzer Prize winning author Junot Díaz, the AP Spanish Princeton Review 2009 and "Yaks March In Washington," the first of a series of English-Spanish educational audio books. He also voiced the role of the World Grand Prix commentator for Disney Pixar's 'Cars 2' online video game in Spanish. He's also back for a third season as the Voice Over Coach for the US version of the Disney animated series 'The Octonauts.' He's also one of the new songwriters for Nickelodeon's animated series "Dora and Friends: Into The City."
In the summer of 2010 – Jean-Marc created an acclaimed series of in-person workshops, 'Power Marketing for the Voice Over Actor,' 'Intro to Voice Over Technique', 'Spanish Voice Over Technique' and 'Kids Voice Over Technique.' At present, he teaches these workshops on a regular basis at Actors Connection in NYC. He also freelances as a Voice Over coach who specializes in the production of Commercial, Audiobook and Character Voice Over Demos.
TESTIMONIALS:
"I learned a lot about voice over technique and the class was very fun and dynamic." -Marisa Roman
"The class was a great source of info on general voice over technique, in addition to the spanish language focus. Very informative, fun and engaging!" -Emily Tafur
"Jean-Marc is a wonderful teacher, who really takes an interest in the strengths and weaknesses of his actors. He truly gives each actor individual attention and brings out the very best in them." -Sonia Torres
"Jean-Marc was great, friendly, knowledgeable and charismatic." -Diego Donoso
"It was a great experience to be able to take a Spanish class. There should be more classes in Spanish. Now, Jean-Marc made it really great. He shows us the techniques, finds our errors and opportunities to improve and encourages us to practice anything we might be doing wrong. He gives out his personal experience and insights of this growing industry and helps us students familiarize with the spots so that we can narrate fluently and in a natural way, just like we were talking to somebody we knew. I just wish the course lasted longer." -Ricardo Orellana
Jean-Marc Berne
Meets
| | |
| --- | --- |
| Wednesday, August 21, 2019 | 6:30 pm |
| Wednesday, August 28, 2019 | 6:30 pm |
| Wednesday, September 4, 2019 | 6:30 pm |
The following disclaimer is provided specifically at the request of and in accordance with SAG/AFTRA: Seminars or classes are for educational purposes only and will not secure or provide opportunity for employment in the field or representation by an agent or casting director.