LA Kids & Teens TV PILOT SEASON Weekend with 6 Casting Directors & Talent Agents (Feb. 29-March 1 in Los Angeles)
Saturday, February 29, 2020, 10:15am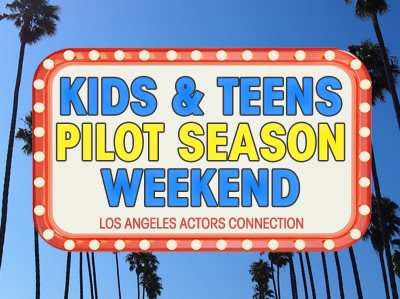 Get in the game and ready to book TV shows this Pilot Season in LOS ANGELES, the busiest place and time for casting with more auditions happening than usual!
Open to actors of all levels, ages 7-16 work with 6 incredible TV & film guests on Saturday & Sunday, Feb. 29 and March 1, 2020.
Experience master classes with hands-on acting coaching and professional feedback, leading to a Talent Agent & Manager Showcase at the end of the second day.
Each year, the major American broadcast television networks – including ABC, CBS, The CW, FOX, NBC, Disney – cast for their new TV shows, also known as pilots. Meet and perform for 2 Casting Directors that work on television projects, and 4 Talent Agents/Managers that get actors in the door to audition.
This program is held at the LINE Hotel at 3515 Wilshire Blvd, Los Angeles, CA 90010. [Optional: Families traveling from out-of-town can take advantage of discounted nightly rate of $149/night at the beautiful LINE hotel, click here to book your lodging (not included in program tuition). We highly encourage non-locals to stay at the host hotel, while space lasts, as the program is jam-packed. The LINE Hotel features a local Café, Pool, Lobby Bar & Patio, Cocktail Lounge, Free Wi-Fi, Room Service, 24 Hours Fitness Center, complementary Linus bicycles, a beautiful rooftop restaurant, and more.]
To register for this weekend program, add this event to your cart and check-out!

GUESTS TO BE ANNOUNCED SOON!
PREVIOUS VIPS HAVE INCLUDED:

CASTING DIRECTORS-
★ Barden/Schnee Casting (Pitch Perfect 3, Jessica Jones, Sisters)
★ Steven O'Connor Casting (Liv and Maddie, K.C. Undercover, Shake It Up)
★ Greenstein/Daniel Casting (Girl Meets World, The Odd Couple, How I Met Your Mother)
★ Linda Lowy Casting (Snow White: The Fairest of Them All, Scandal, The Catch)
★ Telsey + Co. (Ugly Betty, My Crazy Ex-Girlfriend, Hairspray Live)
★ Zora DeHorter Casting (Loving Annabelle, MGM's She Spies, and judge on CBS's The World's Best)
★ BHR Casting (Lethal Weapon, Awkward, The Thinning)
★ Dorian & Sibby Casting (Alex Inc., Parks and Recreation, Curb Your Enthusiasm)
TALENT AGENCIES-
★ CESD
★ Daniel Hoff Talent Agency
★ Avalon Artists Group
★ DDO Agency
★ BBA Talent Agency
★ Bella Talent Agency
★ Clear Talent Group
★ AEFH Talent Agency


Tentative Schedule:
Saturday, Feb. 29, 2020
10:15am - Orientation & Scenework
12:30pm - Pizza Party (included)
1:00pm - Casting Director Prep
2:00pm - Event with Casting Director
4:00pm - Dismissal
Sunday, March 1, 2020
10:15am - Event with Casting Director
12:30pm - Pizza Party (included)
1:00pm - Talent Agent/Manager Showcase Prep
2:00pm - Pilot Season Showcase with 4 Agents/Managers - parents invited!
4:00pm - Dismissal
What To Prepare & Expect:
Prepare one scene for the weekend which we will provide and email you 2-3 days before the event.
Complimentary coaching on your scene included before you showcase. Pizza party lunch is also included both days.
You'll also leave with select written feedback on your scenework and performance from the Showcase.
Family/friends are invited to the Talent Agent/Manager Showcase on Sunday at 2:00pm, including a Q&A session with the Agents/Managers in attendance.
Lesson Plan:
Students will learn from industry professionals about the following topics at this weekend event:
Getting Involved in Pilot Season
Scene work with a partner/reader
Making bold and informed character choices

How to prepare for and what to expect at auditions

What makes a strong headshot & demo reel
Connecting with casting for auditions / self-taping
How to find a talent agent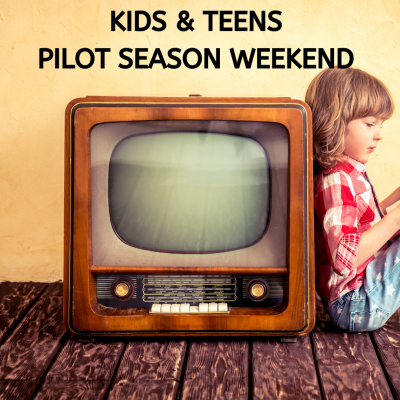 Parent Testimonials:
"Honestly, I don't know how to thank you & Actors Connection for the amazing opportunity for Joy to attend this program! The opportunity to perform for (and get feedback from) so many Agents and Casting Directors was priceless! Joy was excited for every day, made so many new industry connections as well as new friends...it was easy to see how valuable this was for ANY young actor - and how the tools learned raised the level of confidence dramatically. Totally amazing!!! Thank you - we are forever grateful for everything - and plan on being around for a VERY long time!" -Debbie, Parent of Joy Tuck, LA Performing Arts Camp, July 2019
"Farrah can not stop talking about the program! She had such an awesome time. She learned so much in just a few days from you and all of your guests. And as a cherry on top she made some amazing friends. You have really solidified her decision to pursue her dream and passion for acting. Being in business I know most of the time we only hear about the negatives so I wanted to send you a positive note. Big thanks to you and your instructors for being so supportive, encouraging and most importantly educational. The skills she learned with you will go a long way. I'm sure we will see you again as she would go back tomorrow if she could." -Paula, Parent of Farrah Bilica, LA Performing Arts Camp, July 2019
"Thank you so much for everyone, Riley had such a great time at Actors Connection. She loved the other kids and made great friends!" -Sheryl, Parent of Riley Noon, LA Performing Arts Camp, July 2019
Success Stories

Click here to see what our past participants have been up to after acting in our programs!
Cancellation Policy: Cancellations must be made with 4 weeks advance notice before the program start date for a full Actors Connection credit to be issued. Cancellations made 2-4 weeks before the program start date will be partially credited after incurring a $150 cancellation fee. Cancellations made less than 2 weeks before the start date will not be credited and may incur a $150 cancellation fee. There are no refunds.
Questions? Need discounts to hotels?
Please email la@actorsconnection.com.

Actors Connection is in full compliance and BONDED (#14-SUR-140824) with the State of California.
Meets
| | |
| --- | --- |
| Saturday, February 29, 2020 | 10:15 am |
| Sunday, March 1, 2020 | 10:15 am |
The following disclaimer is provided specifically at the request of and in accordance with SAG/AFTRA: Seminars or classes are for educational purposes only and will not secure or provide opportunity for employment in the field or representation by an agent or casting director.