2020 NEW YORK ONLINE Performing Arts Summer Camp: Kids & Teens • JULY 20-AUG 14, 2020, 1p-3p M, T, TH, FR
Monday, July 20, 2020, 9am ET / 6am PT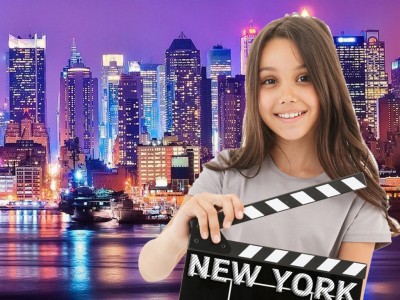 Actors Connection Performing Arts Camp is the leading New York professional summer program for ages 7-16.
In this NEW ONLINE program Kids & Teens will work with 19 Casting Directors, Talent Agents, and Broadway Stars in one jam-packed summer.
Virtual Camp meets Mondays, Tuesdays, Thursday and Fridays, from 1pm-3pm for 4 weeks.
This is "the ultimate dream camp for young performers" as featured in BroadwayWorld!
In addition to real-world training, our past participants have met representation or found auditions for major NY & LA productions through our program.

★ Jump-start your acting career through master classes and events with New York industry pro's in TV, film, commercial and print.
★ Learn and train with VIPs and receive quality feedback plus videos from class to watch at home.
Camp is hosted on a password protected zoom. Students can participate from ANYWHERE.
Interesting in doing only 2 weeks of the program for $450? CLICK HERE.
PREVIOUS VIPS HAVE INCLUDED:

CASTING DIRECTORS-
★ Jen Rudin, Jen Rudin Casting
★ Gayle Seay, Wojcik/Seay Casting
★ Eve Battaglia, Eve Battaglia Casting
★ Donna McKenna, Donna McKenna Casting
★ Lisa Fischoff, Broadcasters NY
★ Barry Shapiro, Herman & Lipson Casting
TALENT AGENTS-
★ Kerri Krilla, CESD Talent Agency
★ David Gilbert, Zuri Model & Talent Agency
★ Dina Torre, Generation TV
★ Eddie Rabon, Take 3 Talent Agency
★ Mallory Levy, DDO Talent Agency
...and many more!
We're in BroadwayWorld news! Click to read some of our favorite features:
• Camp Returns With Stephen Bradbury (HARRY POTTER On Broadway), Jason Veasey (LION KING), Kim Exum (BOOK OF MORMON), Alena Watters (THE CHER SHOW) And More
• Kim Exum From Broadway's BOOK OF MORMON Visits Actors Connection Performing Arts Camp
• Actors Connection Performing Arts Camp Returns With Cheech Manohar From MEAN GIRLS On Broadway And 12 Special Guests!
• ALADDIN and NEWSIES Stars talk to Actors Connection's Performing Arts Campers
• Jen Rudin Author & Casting Director known for Disney Channel shows drops in to do book signing for Confessions of a Casting Director
• Broadway Star Felicia Finley teaches a movie-musical combination similar to Fox's Hairspray and NBC's The Wiz
• Celebrity Acting Coach Denise Simon Chats With Parents of Actors Connection Campers.

Tentative Schedule:
Mondays: Working with AC teaching artists on technique
Tuesdays: Casting Director Intensives
Wednesdays: OFF
Thursdays: Broadway Actor Zoom Meet and Greets
Fridays: Showcases to Agents and Managers
What To Prepare & Expect:
Prepare scene(s) for the week which we will email you the week before camp begins.
Upload a headshot or student picture to your AC account
Lesson Plan:
Kids & Teens will learn from industry professionals about the following topics during this program:
Working in the New York film/TV and Broadway market
Acting Method and Technique
Scene work with a partner/reader
Cold reading
Improvisation skills
Making bold and informed character choices
Speech and articulation

How to prepare for and what to expect at auditions

What makes a strong headshot & demo reel
Connecting with casting for auditions / self-taping
How to find a talent agent
Parent Testimonials:
"Thank you so very much for giving Shawn the opportunity to be at the camp. He hasnt stopped talking about it! He enjoyed every single day there. The staff was amazing and he learned so much. We cannot wait for the next camp! We are absolutely thrilled with the headshot. It came out beautiful!! Also, wanted to give you an you an update. On Monday, Erica from Abrams Artist Agency reached out to us and asked us to come in today for a meeting...we went there this morning and they said they would love to work with him. We cannot thank you guys enough for the opportunity!" -Stephanie, Parent of Shawn Nazar, NY Performing Arts Camp, August 2019
"Karina loved every minute of camp and can't wait for next year! The demo reel is amazing!!! Abrams Artists Agency has contacted me for a meeting with Karina. Thank you again for everything!" -Jes, Parent of Karina Siegel, NY Performing Arts Camp, July 2019
"My daughter Emmalynne had a fantastic week at Actors Connection NY Performing Arts Camp. Tuesday evening on the walk home, she asked, "Do they offer this camp every year? Can I sign up for next year, tomorrow?" -Kathy, Parent of Emmalynne Ratze, NY Performing Arts Camp, July 2019
"Madelyn not only had a blast but learned so much. It was such a perfect mix of fun, community and learning. She said it was so refreshing to be working with other kids that have the same passion in life." -Courtney, Parent of Madelyn Paterna, NY Performing Arts Camp, July 2019
"From the moment I signed my daughter up for Acting Camp with Actors Connection, their staff were right there to help with everything! They are patient and really care about the kids! Gia had been on a few commercial auditions and was pretty nervous; after the filmed scene at camp she felt like a pro! I can't thank Actors Connection enough!" -Lisa, Prent of Gia DeStefano, NY Performing Arts Camp, August 2018
Success Stories:

Click here to see what our past participants have been up to after acting in our programs!
*Scenes will be recorded on-camera and will be made available to you within a week via your actorsconnection.com profile in the "My Videos" tab. Please note: from time to time technical issues do occur. As a result video clips from class are a courtesy, not a guarantee.*
Cancellation Policy: Cancellations must be made with 4 weeks advance notice before the program start date for a full Actors Connection credit to be issued. Cancellations made 2-4 weeks before the program start date will be partially credited after incurring a $150 cancellation fee. Cancellations made less than 2 weeks before the start date will not be credited and may still incur a $150 cancellation fee. There are no refunds.

Questions? Need discounts to hotels?
Please email kids@actorsconnection.com.


Don't get stuck on the wait-list, this program has SOLD OUT in previous years as there are LIMITED SPOTS!!
Meets
| | |
| --- | --- |
| Monday, July 20, 2020 | 9:00 am |
| Tuesday, July 21, 2020 | 1:00 pm |
| Thursday, July 23, 2020 | 1:00 pm |
| Friday, July 24, 2020 | 1:00 pm |
| Monday, July 27, 2020 | 9:00 am |
| Tuesday, July 28, 2020 | 1:00 pm |
| Thursday, July 30, 2020 | 1:00 pm |
| Friday, July 31, 2020 | 1:00 pm |
| Monday, August 3, 2020 | 9:00 am |
| Tuesday, August 4, 2020 | 1:00 pm |
| Thursday, August 6, 2020 | 1:00 pm |
| Friday, August 7, 2020 | 1:00 pm |
| Monday, August 10, 2020 | 9:00 am |
| Tuesday, August 11, 2020 | 1:00 pm |
| Thursday, August 13, 2020 | 1:00 pm |
| Friday, August 14, 2020 | 1:00 pm |
The following disclaimer is provided specifically at the request of and in accordance with SAG/AFTRA: Seminars or classes are for educational purposes only and will not secure or provide opportunity for employment in the field or representation by an agent or casting director.