VOICE OVER MASTERCLASS: 6 Week Advanced V/O Class with Andy Roth, Independent V/O Casting Director, Diakeim Lyles, Independent Casting Director, Angela Mickey, Casting Director, Liz Lewis Casting
Wednesday, March 13, 2019, 7:00pm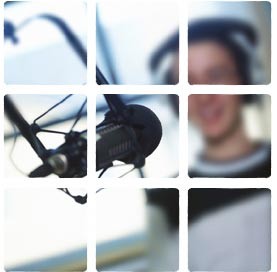 For Advanced V/O Talent Only!
Our Voice Over Masterclass will give you all the tools you need to connect and make firm committed choices to BOOK more V/O jobs! You'll work on a variety of V/O commercial copy that each guest will be bringing in as well as some specific areas that each guest will tailor for their classes.
Our scheduled V/O guests for the 6 weeks include:
Diakeim Lyles, Independent Casting Director - Week 1 and 2
Andy Roth, Independent V/O Casting Director - Week 3 and 4 and
Angela Mickey, Casting Director, Liz Lewis Casting - Week 5 and 6
Not for the beginner, this class is for the experienced V/O actor who is auditioning but not booking, or even successful actors who simply want to improve their booking rate.
Limited to 12 Experienced Voice Over Actors
Diakeim Lyles, began his career in film/TV commercial casting 19 years ago. He worked at Liz Lewis Casting Partners for 8 years where he worked on numerous commercial and voice over castings.
He now works independently(Dlylescast.com) and with various Casting Houses in the New York area including Brooke Thomas Casting, Beth Melsky Casting, House Casting, Jen Halpren Casting, Casting Partners, Bess Fifer casting and Station Films. Clients he casts for include Stefano Maria Palombi creative director of Saatchi & Saatchi(Italy), Artjail Production Co, The Martin Agency, Jason Moore Productions, Mayhew Breen Productions, Toys 'R Us, PBS, Verizon Fios. He also attends film, theater and improv shows along with teaching. He loves working with actors!
Angela is the Managing Director of Casting for Liz Lewis Casting Partners and has been at this powerhouse office for 16 years casting on-camera commercials, V/O's, TV, Film, and theater. Recent commercial projects include: Truvia, Comcast, Verizon Fios, MTV, Plavix, Lowes, Victoria's Secret, Rockband 2, All Bran, Toyota, Holiday Inn Express, and many promos for Comedy Central.
Specializing in voice over, Andy Roth is a casting director with over two decades in the entertainment business. After many years as the in-house casting director for CESD, one of the country's top commercial talent agencies, Andy struck out on his own. Since then he has been working for many of the biggest advertising agencies, casting houses and production companies in the world. In his casting career, he has served as casting director on thousands of projects ranging from commercials, animated films and television series, to documentaries and video games. His teaching resume boasts 3 of The Hollywood Reporter's top-rated college acting programs; including NYU's Tisch school where he is currently on staff. His unique approach to VO training has given hundreds of artists the ability to successfully assess, quickly and easily, any copy in any situation.
TESTIMONIALS:
"As always, I'm a huge fan of Actors Connection and this class was pretty awesome! Total professionalism on all parts with each guest." -Christian Rosselli
Meets
| | |
| --- | --- |
| Wednesday, March 13, 2019 | 7:00 pm |
| Wednesday, March 20, 2019 | 7:00 pm |
| Wednesday, March 27, 2019 | 7:00 pm |
| Wednesday, April 3, 2019 | 7:00 pm |
| Wednesday, April 10, 2019 | 7:00 pm |
| Wednesday, April 17, 2019 | 7:00 pm |
The following disclaimer is provided specifically at the request of and in accordance with SAG/AFTRA: Seminars or classes are for educational purposes only and will not secure or provide opportunity for employment in the field or representation by an agent or casting director.